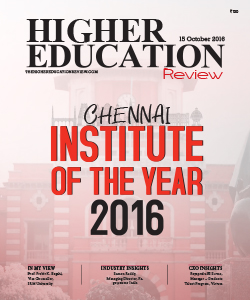 Chennai Institute of the Year 2016
Chennai, the second largest among the metropolitan cities in India, stands with the literacy rate of 90.33 percent and serves as a hub of education. The city houses many educational and research institutes with national repute. College of Engineering, Guindy, Madras Institute of Technology, IIT Madras, Madras Medical College, Stanley Medical College, Loyola College, Stella Maris College, Women's Christian College, Madras Christian College, Presidency College and the list does not end here. The city graces a varied range of institutes, which offer a palette of U.G, P.G and PhD programs and more importantly a mix basket of professionals programs. 

Although, Chennai provides so much to the education sector, students do not need to seek job in other parts of the country. Indeed, they can find themselves in the midst of a sea of opportunities here. Chennai has a broad industrial base in the automobile, computer, technology, hardware manufacturing and healthcare sectors. Nicknamed as "Detroit of India", Chennai is base to 40-45 percent for India's automobile and auto component industry. A large number of automotive companies including Hyundai, Renault, Robert Bosch, Nissan Motors, Ford, BMW, Mitsubishi and many more have manufacturing plants in Chennai. In addition to that, being the second largest exporter of BPO and IT services in India, Chennai attracts large number of tech savvy youngsters. The presence of prominent financial giants such as World Bank, Standard Chartered Bank, ABN AMRO, Bank of America, Royal Bank of Scotland, Goldman Sachs and Barclays with other industries as well make the city a better choice for every kind of professionals. 

This issue of High Education Review has brought a palate of institutes, which offers a variety of courses to the youths. From a diverse selection of U.G programs to professional courses, we have handpicked a number of institutes, which are known for providing the most sought after programs in the metropolitan city of Chennai. We would be immensely pleased to see this issue 'Institute of the Year 2016- Chennai' guide students in general to be benefitted the most from it.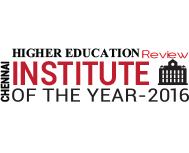 Nominate College/Institute
×
Nominate College/Institute
Our subscribers play a decisive role in finalization of our annual list of "Chennai Institute of the Year 2016" by nominating those which have served them with excellence and are praiseworthy. If you feel there is a College/Institute that deserves to be on our annual list, do write to us about them mentioning their value proposition.
Data not inserted