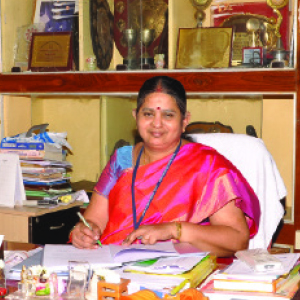 As per the words of Pandit Jawaharlal Nehru, the condition of a nation can be assessed by looking at the status of its women. However, we had a time when women were not even allowed to move out of their house. From there, the women in India have reached a stage where they actively participate in social, economic and political activities; it is not just with the wheel of time, but because of the continuous efforts of many people. Late Shri Nanalal Bhatt, founder of Shrimathi Devkunvar Nanalal Bhatt Vaishnav College
for Women, was one such person who wanted to bring up the status of women by giving them quality education. This true aspiration made him start a College in the name of his wife Shrimathi Devkunvar. Today, the 48-year-old College,
located in Kanchipuram District, Tamil Nadu, caters to the need of large number of first generation learners coming
from vernacular medium.
"Started with six lakhs donated by Cork Industries Charities Trust in 10 acres of land donated by our LateFounder Chairman Shri Nanalal Bhatt, we are the first
women's Aided College in Kanchipuram District in TamilNadu and we proudly work to fulfill the vision of our founder," says Dr. V. Varalakshmi, Principal of Shrimathi Devkunvar Nanalal Bhatt Vaishnav College for Women.As per the Late Founder Chairman Shri Nanalal Bhatt,education is something, which needs to reach up all the
sections of the society and his idea is taken forward bythe institute till now. Currently, the institute is headed
by Smt.Mamta D Bhatt and with the support of qualified and experienced academicians, the institute promotes self-confidence among students instilling leadership and
employability skills. These ideas of productive education inspire them to ensure the quality of the curriculum.