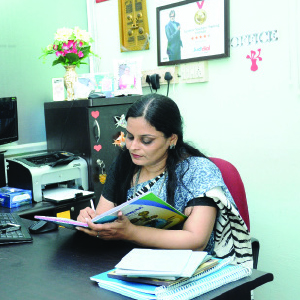 hen we look back to our childhood, we all did have one favorite teacher – a special mentor who was always there for us.While, we worked harder and learned better for that teacher, unfortunately, few of our teachers have also made us hate some subjects.
Undoubtedly, teaching is all about inspiring students and the right mix of chalk and challenges can change many lives. However, teaching as a profession requires an apt training, especially for those who are enthusiastic to teach kids aged below 12 years. Shakira Ahmed, the
founder of Sunshine Teachers Training Institute, was one such passionate individual. Her passion to work with
children prompted her to pursue an Advanced Diploma in Montessori Kindergarten and Nursery Teacher Training.
Upon securing the same, she along with her friend started Shine Educational Society (now renamed as Sunshine Teachers Training Institute) in the year 2008, to train the
teachers in Montessori concept.In the initial stages, it was difficult for Shakira and her team to attract students for training in Montessori, as the
concept of Montessori methodology and its benefits were not really accepted in the Indian society. "Ten years back,we struggled a lot to convince people about the new concept and it was very hard for us to get students. Eventually, the preschools and Montessori Method of teaching became popular and we were one of the few institutions to create teachers for kindergarten and Nursery education," claims Shakira. She remembers the time when the institute was just admitted with ten students but she proudly claims that they never compromised with the quality of
service provided.