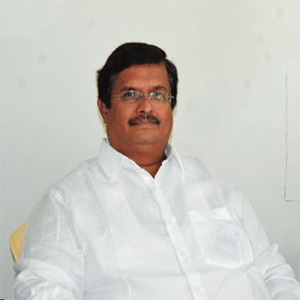 Dr. N. Vijaya Bhaskar Choudary
The Secretary and Correspondent
The Secretary and Correspondent of the Besant Theosophical College, Dr. N. Vijaya Bhaskar Choudary is an educationist and a visionary with pragmatic ideology. He believes that educating the young generations is a holy task, and it should be carried out in all earnestness, with a sense of dedication and determination.
It is depressing to see education touring out to be a commodity in our country. Many higher educational institutions do not think twice before imposing high fees on the students in turn of an abysmal quality education. Besant Theosophical College, offering premium quality and affordable education to the student community since the year 1915, has always been a different entity in this sector. The institution has brought many changes in the education system, as it stands firm on the motto of "Education as Service". Considered as one of the oldest institutions in the country and established by the visionary and the world-renowned theosophist Dr. Annie Besant, the college has been constructively contributing in uplifting the education quotient of the backward region of Rayalaseema in Andhra Pradesh. The college holds the pride of generating a number of first generation girl students with a strong focus on promoting women education.
Carrying forward Dr. Besant's noble idea of making education available to the underprivileged sections of this remote rural area, today Besant Theosophical College is growing by leaps and bounds under the able Correspondent ship of Dr. N. Vijaya Bhaskar Choudary, who also happened to be an esteemed alumnus of this institute.
"Being a former student of this college, I do understand the reputation that it holds and the expectations that are attached to it. I, along with my management team,