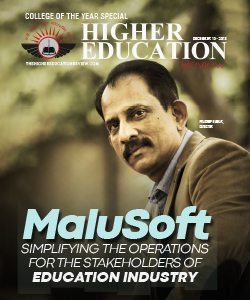 College of the Year
In the mid-half of the second decade of the 21st century, the Indian higher education system has witnessed some memorable events like the establishment of an IIT in Jammu and the inauguration of a supercomputer – Param Ishan in IIT Guwahati. The decade saw introduction of Common Entrance Test (CET) for full time courses in Medical, Dental and Engineering in professional colleges across various states in India. The gross enrolment ratio (GER) of the higher education system is also increasing and by 2020, it is expected to reach an unprecedented rate of 30 percent. Among all the Indian states, currently Tamil Nadu tops the chart with 46.9 percent GER.

Of course, the Indian literacy rate is increasing and so are the numbers of colleges in India. One cannot deny the fact that every hour a new college emerges in some renowned place, or under the deep shades of rural infrastructure. After one or two years of its emergence, the new college actually forms a huge student base and by that time it also makes a remarkable reputation of imparting structured and quality education.

It is a conventional thought among Indian students that private colleges cannot match the supreme pedagogical standard of the accredited Indian government colleges. However, this is quite a misconception as learning purely depends on the gripping capability of a student. An interested and success oriented student can achieve its career and professional dreams studying in any college. The key to which has always been the hunger, determination, and self-motivation. These days, private colleges are capable of guiding a student as any famous government college would do and that is the reason why India is standing tall on providing education to the mass.

Truly, India have had some major reforms since the beginning of 21st century and as a reward it became the third largest higher education system, residing just next to the United States and China. The number of colleges in the country has reached a record figure of 39,701! And from this number, our team of researchers and experts, after thorough exploitation, has articulated a list of deserving colleges in India based on the parameters like infrastructure, educational methodologies and research output. In the next pages, we at The Higher Education Review, present to you some of the top colleges in India, selected by our team as the "College of the Year - 2018".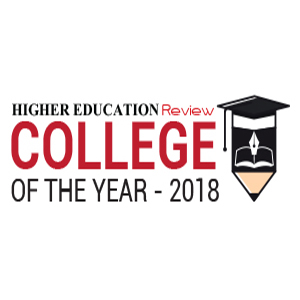 Nominate College/Institute
×
Nominate College/Institute
Our subscribers play a decisive role in finalization of our annual list of "College of the Year" by nominating those which have served them with excellence and are praiseworthy. If you feel there is a College/Institute that deserves to be on our annual list, do write to us about them mentioning their value proposition.
Data not inserted