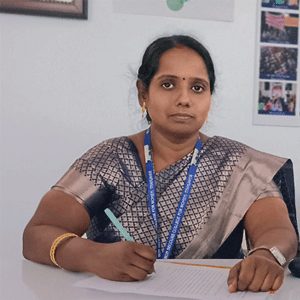 K. Kathiroli
Head of the Department
Former Prime Minister Pandit Jawaharlal Nehru stated, "If you educate a man, you educate an individual; however, if you educate a woman, you educate a whole family". The empowerment of women rep-resents the development of India as a whole. An educated woman has the potential to bring about significant changes in society. However, in India's rural setting, women still confront several societal difficulties such as gender discrimination, underage marriage, the dowry system, and domestic abuse. Women, living in rural regions of India face different societal obstacles. Hence, education for women is essential in rural parts so that a wide range of societal issues may be resolved and so that more possibilities can be created for women. To address the same concern Bon Secours College for Women was established to empower young rural women as better citizens of the World.
The Franciscan Sisters, who are members of a religious community, are instrumental in the establishment of Bon Secours College for Women with the motto, "To Empower, To Change, To Live". This institution was founded to elevate oppressed women, particularly rural women. This Congregation has been active in the area of education for the last 164 years, and its overarching goal is to encourage and empower rural women so that they may achieve success in their fields. In the year 2002, Bon Secours College for Women embarked on the long and arduous path of reaching out to women who live in rural and impoverished areas. The college started its long journey of reaching out to the poor and rural young women in the year 2002 with a meagre strength of 50 students. Now the college has grown in leaps and bounds with a total strength of the 4,286 students.
The College, affiliated with Bharathidasan University is recognized by UGC under 2(f) and 12(B) of the UGC Act 1956 and is accredited with an `A++' Grade in Cycle II (CGPA 3.71) by the National Assessment and Accreditation Council (NAAC), an autonomous body of the UGC. Bon Secours College is the only college in Thanjavur that has achieved this credit. The College has been ranked by NIRF in the 151 ­ 200 Band and secured the first rank in the Best money value category for Fashion Technology by India Today ranking for the year 2022. The College is recognized as the potential Mentor for NAAC aspiring institutions under the UGC scheme of Paramarsh scheme.
It is actively participating in Institutions' Innovation Council (IIC), Ministry of Education, Government of India for fostering the culture of innovation and entrepreneurship among students and teachers with technical and non technical interventions.