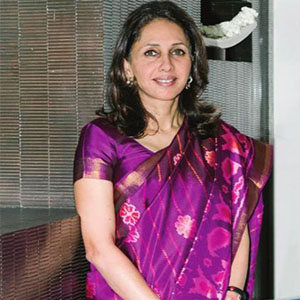 Deepikka Jindal is the Chairperson of O.P. Jindal Modern School and Vidya Devi Jindal School. However, leadership in education is only one part of her life. Deepikka is the Managing Director of JSL Lifestyle Limited and the Chairperson of O.P. Jindal Cancer Hospital and N.C. Jindal Institute of Medical Care & Research, a 250-bed Multi Specialty Hospital. A great humanitarian, Deepikka also decorates the leadership of the Jindal Stainless Foundation, a CSR wing of Jindal Stainless Limited. Following her passion to promote stainless steel in all its forms, she founded 'The Stainless' an art gallery, where she patronizes artists to create beautiful pieces of art in this material, giving them all infrastructural and financial support. A multifaceted leader and a great artist, Deepikka is an inspiration to many.
Kolkata, the city of joy, has a special bonding with its Loreto House School. They know that every Loreto girl would strive to stand out from the crowd.Indeed, that is what this 176-year-old institution teaches - to celebrate the uniqueness of every individual.As an alumna of Loreto House School, Deepikka Jindal was also taught to be responsible for her own future and to script her own life story. She would do it eventually, but not as quickly as many other successful Loretians.
Born in a conservative Marwari family based in Kolkata, higher education was not a preferred choice for Deepikka, whose childhood dream was to be an academician. At a young age of 19, she was married to Ratan Jindal, a scion of one of the wealthiest families in India. For Deepikka, it was not a mere marriage, but an entry into a fascinating world of opportunities that Jindal family would offer her later. "Vidya Devi Jindal School in Hisar was instituted at the same year when I got married to Ratan Jindal.
Later on, the leadership role of the school was passed on to me as a legacy from my husband's family. I am just a caretaker of this institution," Deepikka recalls about the first major task given by her father-in-law, OP Jindal and mother-in-law, Savitri Jindal.
When Deepikka became the Chairperson of Vidya Devi Jindal School, she was in her mid 30s with two kids who were independent enough to take care of themselves. Deepikka had the time to do something professionally. However, was she ready to carry such a big responsibly on her first job? "I wasn't sure about the outcomes