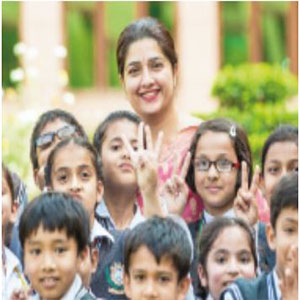 After completing her schooling from APJ, Faridabad, Dr. Sheetal Mann pursued B.Sc in Zoology at Gargi College, Delhi University and stood first in the college for securing highest aggregate marks. Thereafter, she completed M.Sc. in Biotechnology from Bangalore University. She took up Master's Degree in Education, as she found her passion in teaching. A State Level Badminton player in school, she was also the President of the Zoological Society in Gargi College. In her 11 years of career as a teacher and administrator, Dr. Mann has received several awards including, Honorary Doctorate Award (D. Litt) by University of South America, 32nd Dr. S. Radhakrishnan Memorial National Teacher and Media Network Award, Leadership and Excellence Award by Knowledge 360, Inspiring Educator Award from The Rockport Governing Council, Global Human Rights Protection Award from Indian Institute of Human Rights.
An Iconic Leader in Action
Perhaps, we would not have written about Dr. Sheetal Mann, if she had not taught a few students from her neighborhood whose parents could not afford private tuitions. Dr. Mann wanted to do research after completing her Masters in Biotechnology. "It was during this time that my soul advocated me to work in the field of education and thereafter, things took a different turn and I entered into the school teaching," recounts Dr. Mann. Soon, she realized her passion for teaching, largely due to the opportunity it gave her to interact with young learners.