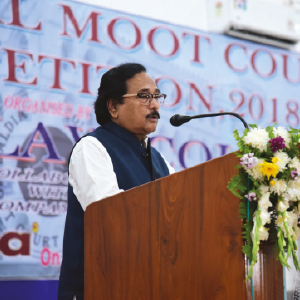 Situated in the only city in India to have a Japan-town, Haldia, Haldia Law College (HLC) is imparting legal education to students of Eastern part of India since 2002. HLC was established to indoctrinate the Indian spirit of 'Satya Mev Jayate' and to facilitate learners in becoming intellectually augmented and ethically inspiring lawyers. Over the years, the college has evolved in the course of its journey as a premier institute of legal learning and has become a reputed institution of the Eastern region, because of its quality legal education wherein the rhythms of understanding of social transformation are vibrantly inculcated by creating an incredible academic endeavor. It has evolved as the legal laurels and professional en-route for a didactic distinction in society.
Courses and Faculty Members
HLC has incorporated undergraduate and postgraduate law course degrees in its curriculum. The undergraduate degree consists of a 5-year B.A. LL.B. honors course and a 3-year LL.B. course, while the postgraduate degree consists of a 2 year LL.M. course. The students receive ingenious law education from highly motivated, qualified and dedicated faculty members who are always ready to give their best efforts and take proper steps to create a healthy academic atmosphere in terms of research culture and aptitude where the students can grow holistically. The faculty members are well aware of the capabilities and limitations of the students and prepare the lectures accordingly. They are forever using their ingenuity to devise ways and means for making the UGC curriculum exceedingly interesting, as a result of which there is active participation of students in classes.
Describing the faculty-student relationship and every day teaching at HLC, Mr. Pratim Sarkar, Assistant Professor in Law, says, "We, the faculty