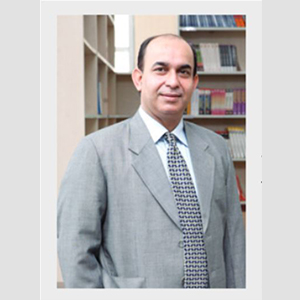 When speaking of communities that over the time have left their footprints in the map of Indian business scenario, one cannot just miss but mention the Marwari community that is almost synonymous with business. Since the pre-independence period to till date, this community has been greatly contributing to uplifting the economy of the country. The list of such iconic personalities from the community will unequivocally remain incomplete without acknowledging the visionary founders of JK organization, Lala Kamlapat Singhania and Lala Juggilal Singhania. This father and son duo laid the foundation of JK organization in 1918 and since then the group has been growing from strength to strength through running diverse industries and undertaking initiatives in the field of education. Commenced in the year 2006, JK Business School (JKBS) is an endeavor of the Shri Govind Hari Singhania, who was the Vice President of JK Organization and Director in various other JK Group's companies.
Dr. Sanjiv Marwah, Director, JKBS, says, "JK Group has been instrumental in setting up several educational institutions ranging from schools, colleges, institutes of specialized education and research. The initiation of JKBS, however, is to develop leaders, efficient managers, and technocrats who can create, transform and sustain successful organizations throughout the world." The major USP that the institute is standing upon is in its offerings which include fostering a diversified academic environment by giving admissions to students and recruiting faculty members from different parts of the country. This not only helps the members of the institute to share a vast knowledge with each other, but also lets the students learn the art of co-existing and co-working, which is considered as one of the many characteristics of a competent leader.
From international visiting faculty members to educationists with extensive academic as well as industry experience, the students of JKBS can get access to the best brains of the education arena.