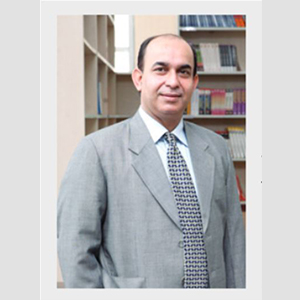 Dr. Sanjiv Marwah is PhD in Customer Relationship Management. He is an expert in the areas of Strategic Management and Customer Retention. He is the founder editor of University Journal of Management Practices, a refereed journal published by MM University (MMU). He has published two course books: Research Methodology and Project Management. He has more than two decades of experience in corporate functioning, academics and administration of academic institutions.
Dr. M. Sridhar, PGP Convener & Assistant Professor
Dr. M. Sridhar is a doctorate in the area of Services Marketing. He holds B.Tech and MBA degrees and also has completed FDP at IIM-A. He has expertise in Scale Development Process and Multivariate Analytics and teaches Research Methodology and Marketing Management at JKBS. He has also published papers in various International Journals.
When speaking of communities that over the time have left their footprints in the map of Indian business scenario, one cannot just miss but mention the Marwari community that is almost synonymous with business. Since the pre-independence period to till date, this community has been greatly contributing to uplifting the economy of the country. The list of such iconic personalities from the community will unequivocally remain incomplete without acknowledging the visionary founders of JK organization, Lala Kamlapat Singhania and Lala Juggilal Singhania. This father and son duo laid the foundation of JK organization in 1918 and since then the group has been growing from strength to strength through running diverse industries and undertaking initiatives in the field of education. Commenced in the year 2006, JK Business School (JKBS) is an endeavor of the Shri Govind Hari Singhania, who was the Vice President of JK Organization and Director in various other JK Group's companies.
Dr. Sanjiv Marwah, Director, JKBS, says, "JK Group has been instrumental in setting up several educational institutions