with the knowledge and skills to create and launch scalable companies. Following the completion of MBA coursework, students will apply their knowledge in a 12-month business incubation practicum in India where they will develop and launch high-value, scalable technology-based new ventures under the guidance of mentors, who are experienced, successful entrepreneurs. Viable ventures will also receive initial seed funding.
"Designed to expand the entrepreneurial infrastructure in India, the customized program in Global Entrepreneurship offered by La Sierra University guides students into becoming job-creators, rather than job-seekers"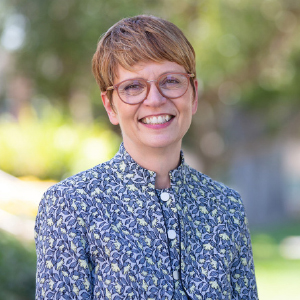 Joy A. Fehr
,
President
"Very few institutions offer this kind of program that provides a combination of entrepreneurship, innovation, and technology in a values-based education model," says Dr. John Thomas, Dean of the Zapara School of Business. "This program intentionally builds on integrity, honesty, and ethical behavior while focusing on sustainability and concern for the world and the environment," Thomas adds. La Sierra University believes that diversity of thought and ideas means more creativity, innovation, and points of view, making for more-informed thinking and better problem-solving. The values-based campus culture and caring community provide an environment in which students from around the world feel welcome and safe. The university's Office of International Student Services also provides a very helpful, in-depth orientation at the beginning of each term, and offers a variety of other services including peer-to-peer mentorship and special activities that foster global perspectives, intercultural awareness, and international goodwill.
Distinctive Expertise and Experience
Designed to expand the entrepreneurial infrastructure in India, the customized program in Global Entrepreneurship offered by La Sierra University guides students into becoming job-creators, rather than job-seekers ­ young business people who will create jobs that will help their local communities in India, grow and thrive for years to come, while securing entrepreneurial careers for themselves. As such, the program does not place students into internships or jobs in the U.S., but rather helps them launch new businesses back