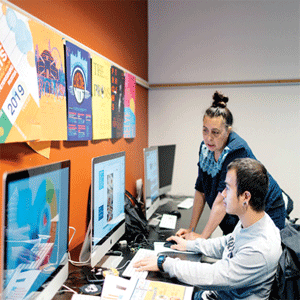 Myrianne Collin
General Director
As a trailblazer of the art of learning, LaSalle College is the most important fashion school in Canada where students experience creativity daily. Member of the LCI Education network, LaSalle College Montréal is a post-secondary education establishment whose mission is to offer a superior education in keeping with labour-market needs, self-actualization and globalization.
A true creative ecosystem, LaSalle College promotes the very nature of creativity-based programs, the activities on offer or the visual elegance of the facilities, the school does all that it can to promote inventiveness and creativity. An online training pioneer in Québec, LaSalle College was the first in the city to integrate virtual reality into its courses. Implementing premium and novel techniques to ensure optimum education, LaSalle College stands out for its cutting-edge collaborative classrooms and its technical clothing laboratory, the Techno-Espace.
Contemporary Programs to Promote Entrepreneur-ship and Innovation
LaSalle College counts five specialty schools with over 60 programs: Fashion, Arts and Design; Hotel Management and Tourism; Business and Technologies; Humanities and Social Sciences based on creativity, entrepreneurship, innovation and openness to the world at the heart of its educational plan. Counted as one of the most premium fashion schools in Canada, the International School of Fashion, Arts and Design is equipped with qualified teachers who work in the fashion industry to assist students with new trends and express their creativity.
"The International School of Business and Technologies is a CISCO leader in Québec, owing to our high-quality technical instruction is designed to train IT entrepreneurs and specialists. Our novel VFX & Game Design programs will allow students to secure a choice position in the growing video game industry and gain all of the skills they need to become a video game programmer, character or environment animator, modeler, 3D artist, special effects technician or video game level designer.