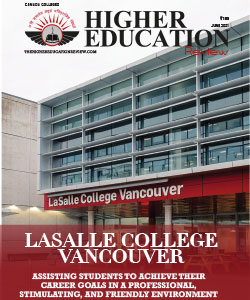 Top 10 Universities and Colleges in Canada for Indian Students - 2021
While the European and American states have been the primary destination for Indian students' abroad education, Canada has been placed in the equivalent ranks due to its encouraging opportunities such as top universities, affordable studying and living cost, living life at a high standard, easy communication, high rate of employability and of course Canada's well-known education system all over the world. Most recent news affirms that international students (including Indians) are now eligible to receive major beneficiaries of Canada's newly launched one-time immigration programme. With the latest inclusion of exciting education benefits for the Indian students, over 90,000 international students (including temporary essential workers) already living in Canada will be given permanent residence (PR). The number includes 40,000 international students. Amidst the pandemic of COVID-19, Indian students' count was 220,000 (more than a third of all the foreign students currently studying in Canada) in the previous year, and they are going to gain more advantages than other international students.

One of the major factors influencing students to study in a Canadian state is its on-campus residence for international students. The Canadian universities are extremely cautious about the students' safety and they are highly attentive towards their safety on-campus. However, there are also off-campus accommodations where students can accommodate themselves with other fellow students on sharing hostels. When all the factors are considered, education (graduate and postgraduate) in Canada costs lower than other countries and the quality of education in Business Management, Media, Engineering, Nursing, Computer Science, and Hospitality is equivalent of world-class universities in other international locations.

In order to help the Indian students who are looking for a premier higher education institute in Canada, we at Higher Education Review magazine are trying to simplify their confusion of selecting the best colleges in Canada. Higher Education Review magazine expert panel of researchers has looked into the situation and articulated a list under the name 'Top 10 Universities and Colleges in Canada for Indian Students - 2021' which is based on the institutes' qualities, expertise, ranks, facilities and much more. Reviewed and scrutinized by the intellectual individuals of this specific field, the educational institutes mentioned in this list deliver exceptional education along with outstanding infrastructure, top-notch mentoring facilities, and placement opportunities. We hope that this above-mentioned list will help the interested Indian students to choose the best colleges in Canada.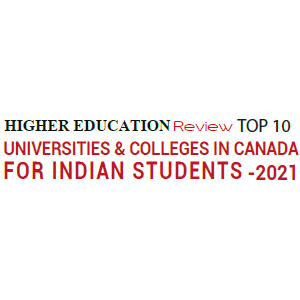 Nominate College/Institute
×
Nominate College/Institute
Our subscribers play a decisive role in finalization of our annual list of "Top 10 Universities and Colleges in Canada for Indian Students - 2021" by nominating those which have served them with excellence and are praiseworthy. If you feel there is a College/Institute that deserves to be on our annual list, do write to us about them mentioning their value proposition.
Data not inserted