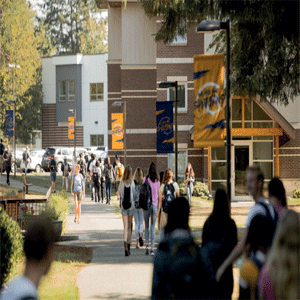 Rather than catching up with the times, Trinity Western University (TWU) in Langley, B.C., Canada, has been at the forefront of this evolving post-secondary landscape for more than half a century. Started as Trinity Junior College in 1962, the university's vision was to transform liberal arts and science education in Canada. Fast forward to 2020, Trinity Western University leads the way of Christian liberal arts education in Canada and has become a global leader in connecting the world through post-secondary education.
Leading the Educational Frontier
Trinity Western University offers 48 undergraduate and 19 graduate programs, currently has 4,400 students enrolled and has a global network of nearly 40,000 alumni. Ranging from kinesiology to game development, each program is designed to prepare graduates to excel in their chosen career paths, to serve as compassionate citizens who help their communities thrive, and to innovative as leaders shaping a promising future.
The classroom sizes are intentionally smaller, and the professors provide an interactive, supportive, and inspiring learning environment. Students receive one-on-one mentorship from faculty who are lead researchers in their academic communities, some professors even holding prestigious Canada Research Chair titles. TWU has three Canada Research Chairs: Canada Research Chair in Person-Centred Outcomes; Canada