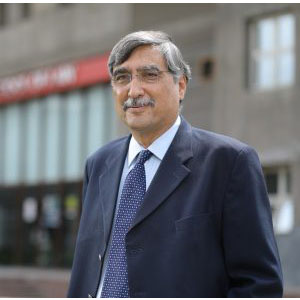 Dr. Deepak Shishoo
In- charge Director
Unitedworld School of Law (UWSL) is a young law school, foregrounding a distinct pedagogy combining optimum law clinic approach with research led knowledge production. Promoted by the Unitedworld Group and affiliated to Karnavati University, UWSL is committed to emerging as a premier law school in Gujarat. It proposes a reformation in the way most law schools in the country carry out law education. It is based on a blend of preparing "practice-ready" graduates by exposing students to real-life problems, at the same time as making them understand the core values of law. Recognized by the Bar Council of India, UWSL has within a short period of time has made some confidently bold moves in that direction.
"UWSL is probably the first in the country that has put an effort in creating a child-friendly mechanism for reporting sexual harassment of children by using creative talents of the students and faculties. We at UWSL always endeavor to stay unique both in terms of teaching our students and contributing to the society through execution of the principles of law especially in the field of child rights, women's rights and rights of the people living below the poverty line," said Dr. Deepak Shishoo, In- charge Director, UWSL. The institute offers a 5 years- integrated BBA. LL.B (Hons.) programme which combines Business and Law, and emphasizes the broader relation of law to the society and the market. The students are allowed the option of choosing their preferred specialization from among subjects like IPR, Business law, and Criminal law.
At UWSL, the students are encouraged to undertake some research activity in their chosen fields in each semester, in addition to attending regular classes, workshops, discussions, and seminars. UWSL has established a Centre for Research on Law and Policy headed by Dr. Debarati Halder, a research professional with an international reputation. In 2017, students of Legal aid committee at UWSL arranged for an awareness camp to sensitize the participants and the audience about child sexual abuse. A brainchild of Dr. Halder, the initiative had showcased an innovative reporting mechanism in which dance mudras (moves) were used as a special language for communication between the victim child and the courts.