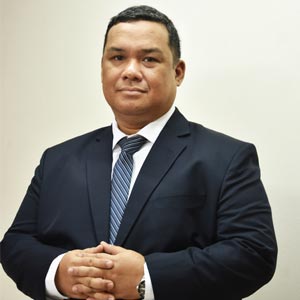 Prof. Jude William Genilo
Head of the Media Studies and Journalism Department
The demand for institutions that can offer top-notch mass communication programs has been increasing in demand for the past decade or so. The constant rise in the need for capable professionals especially in the media and journalism sector has been the key factor that has been driving this growth. The University of Liberal Arts Bangladesh (ULAB) has been consistently churning out professionals that has been creating a name for themselves in the global mass communication segment.
ULAB's founder, Kazi Shahid Ahmed, believes in pursuing endeavours that benefit the people of Bangladesh and are of service to the country. In this spirit, he created a place of learning where wellrounded students would be fully steeped in the values of their own heritage yet trained to face the modern global workplace. ULAB is an institution devoted to developing young minds to their fullest potential through the free and creative pursuit of knowledge.
It is firmly committed to helping young men and women to become responsible and caring citizens of their nations and the world. It fulfills these aims by adopting an array of traditional and innovative academic and extra-curricular programs, and by bringing to students the best that has been accomplished in arts and science throughout the world.
Focusing on Nurturing Inspired Leaders
ULAB strives to instil in students a high capacity for analytical thought, lucid expression and a lifelong love of learning. It collaborates across disciplines and institutions to be a centre of knowledge creation. It focuses on sustainable development to create a better world and nurtures graduates who are able to think critically and communicate effectively; who are technologically sophisticated and globally aware.
Imbued deeply with the principles of freedom, creativity, and service, ULAB graduates will become thoughtful, productive members of society who are capable of meeting challenges of the new century. "Following our founder's vision, ULAB sees itself as a partner in community and nation building. It is an open system that produces graduates who would matter to the profession and graduates who would make a contribution to their society.
The university proudly displays its orientation for developing broad knowledge among its students, which is essential for possessing critical, analytical and problem-solving abilities. It looks to research that is applied and useful whether for media studies,