Higher Education Review ›› Magazine ›› February-2015 issue
'Expertise' and 'Focus' Key for Job Market
Author : Dr. Raj Senani, Ex-Director, Netaji Subhas Institute of Technology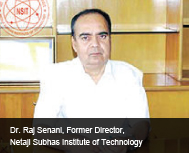 Companies rely on large, diverse teams of highly educated specialists in colleges and universities to get students job ready. These teams often are convened quickly to meet an urgent need of market and work together virtually. Industries will never approach any institute until their faculty have established themselves as experts by way of experience and good quality research publications in reputed journals like those of IEEE, IEE and others. Faculties with experience and expertise have an effective influence on students which benefit students who are in the final year of their undergraduate or post graduate courses and ready to go into a job market.

Many colleges are unable to give practical industrial exposure to their students and hence students face difficulties once they get into the industry. In the majority of the institutions, practical work is either not there or if it does exist, stress is not laid, which is of importance in nature. Concepts studied in the corresponding theory classes is not enough to give them any exposure about the difficulties encountered in the industries, practical implementations or real life applications of the ideas studied in theory classes is important in perspective of making students ready to tackle difficulties faced in companies. Only appropriate corrective action and practical exposure on this aspect will make the students really proficient and well-equipped and one can successfully acquire a job. To make the student job ready, students need to undergo practical training in industries where they are allotted some real-life projects to work upon as part of their training. In addition, either the Institute or the students or both, should find a way to acquire specialized skills in selected areas, which will give them an upper hand.

Just getting any job is not good enough. A student can really excel only in the area where he has in-depth knowledge and strong personal interest. During their graduation, students should try to figure out which subject interests them more than the others. After identifying this, they should make at least one such area as their strong point by carrying out additional studies and carry out hardware/software oriented projects under the supervision of any experienced faculty member who have expertise in the same area. Such an approach will help them get a job in the desired area and once they are there, it would become the right profession for them.

Students getting offers from very big industries may have scope only for making a 'tiny' contribution. Alternatively, one may get a job in a small set-up where the job may give him an opportunity to make a 'big contribution'. Between two such options, one must choose the latter. The growth and contribution plays important role in jobs, where they get an opportunity to implement what one has learned in real-life projects during their training or in their practical class and real life applications, which helps them to grow in the industry they have desired.

Those studying Engineering and Medicine were only considered to be respectable and safe career options. Today, there are many career options available in different and diverse fields. One can pin point early on in his life what exactly interests him and should relentlessly work for the same rather than going towards the options quoted above because everybody else is doing the same. Exceptional talent and expertise and a keen desire to work hard may eventually lead to a satisfying and successful career in any field a student is interested in or desires. The recent crisis in employment for college graduates whether from Engineering, Medical or any other field, is because they are not able to cope up with the problems in the industry due to the lack of exposure in college or lack of expert guidance. With some encouragement and guidance from the faculty one can find the way where he or she desires to be. If the student masters one specific area and also becomes a researcher in the same, such students are likely to become leaders when they go out in job market.