Higher Education Review ›› Magazine ›› December-2016 ›› Special issue
Placement Performance: Pravara Rural Engineering College
Author : HER Team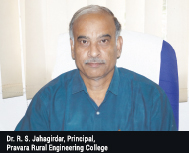 With the changing time, there has also been a revolution in the conduct and delivery of engineering education. Nowadays, engineering is not just about technical abilities; the upcoming generations of engineers need to solve the world's greatest challenges for which they also need a good communication skill to express their ideas. In 1983, when Pravara Educational society laid the foundation for Pravara Rural Engineering College (PREC), the main intention was to make global level education facilities available at the doorsteps of rural India and thus they located themselves in Loni, a rural part of Maharashtra. But with time, the college realized that communication skills are an integral part of engineering and with this realization, they started focusing on the soft skill training for students.

"Rural students are weak in soft skills and basically we are trying to improve them in softskills by providing them apt training starting from the first year," says Dr.Jahagirdar, Principal, PREC. From the time the institute started giving these soft skill development programs, there had been an instrumental increase in the recruitments. The Training and Placement Cell is also very active and handles campus placement of the graduating students of all departments with utmost care. The cell continuously conducts activities like interviews, special lectures, workshops, group discussions and so on to make them ready for the placements. With the focus on soft skill development program with technical education, the college also undertakes value addition courses in all departments to improve their knowledge. Library, which is the nerve centre of college caters to the theoretical and soft skill needs of students and motivates students for research works.

Further, the recruitment is promoted by industry institute interaction and by organizing industrial trainings. "We as an institute believes in the interaction with the corporate world for campus placements of Pre-final and Final year students," says Prof. Jahagirdar. The well experienced and highly qualified faculty also motivates students to in all disciplines and they all strive to enhance the academic performance of the students. "We value education but not with money and thus we are all into imparting outstanding knowledge, application ability by making an all round growth of students and developing global citizens," claims Prof. Jahagirdar.

The college considers the alumni as their strength because these alumni always attribute their present success to the training provided by the college and further they approach the present students to guide them with relevant training. Affiliated to the University of Pune and approved by All India Council for Technical Education (AICTE), New Delhi, PREC has progressed steadily, and currently offers undergraduate majors in Instrumentation & Control, Electronics, Electronics and Telecommunications, Chemical, Civil, Computers, Mechanical and Information Technology fields. The institute also offers Masters in Instrumentation & Control, Mechanical, Civil Engineering, Chemical Engineering, Computer Engineering and Electronics & Telecommunication and Research center for Mechanical Engineering. By emphasizing on quality education, the institute mainly focuses on making employable engineers who can effectively lead to a prosperous growth in future.

Dr. R. S. Jahagirdar, Principal
"PREC Loni is to let you begin your journey on the right foot, to help you head in a direction.We prepare you to adapt and prosper in ever changing life and in a multi-dimensional changing world. At Pravara, you will find the total personality development and guidance for all types of higher education in India and abroad."