A Believer Who Fought Against the Odds
By Riya Das | Monday, 13 Nov 2017, 22:24 IST
Rachna Bagde is a 21-year-old zealous and energetic girl from the hills of Jammu and Kashmir who is creating miracle by merging Gesture Technology and Virtual reality.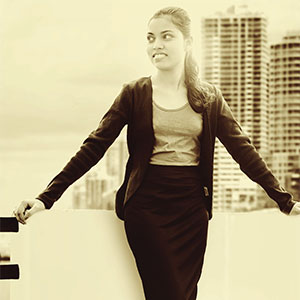 Born in the 'heaven on earth" Jammu and Kashmir, Rachna Bagde was a quiet and obedient child in her early stage. She used to perform well academically and alongside use to participate in lot of extracurricular activities. But later she grew up as a jolly, active and a fun-loving person who likes to take risks, living a life with never dying urging to do something different from the crowd and achieving something really big. She belongs to parents who are both teachers in Kendriya Vidyalaya and were always a pillar of support for her.
Considering her outspoken nature; multi-talented Rachana got the opportunity of working as a Radio jockey with All India Radio for about one year during her school days. After completing her 12th standard boards in 2013, she settled to pursue a dual degree course in Information Technology at ABV-Indian Institute of Information Technology and Management.
Chose daring over settling
"Since college days, I developed the interest in machine learning and consequently underwent a number of certificate courses online", says Rachana. Later she has been intern in three different firms, where she created several interesting projects, gaining her interest and knowledge in Gesture technology and Virtual reality. From there on she got the enlightenment in the products, companies and application related to Gesture Technology that is pertained in the market.
Although the idea of doing something with Gesture Technology and Virtual reality got in shape when Pokémon Go went viral and became popular in no time. The craving of achieving something prompted her to explore this area and perform applicable research on the needs and requirements in order to generate the product. Starting an entrepreneurship journey in a young age doesn't attract many. But for Rachana it was all about taking and managing risk that will eventually help prepare for bigger challenges in both personal and professional life.
Heading towards execution
After thorough research on the product she wanted to bring on, she comprehended that the software and hardware would cost too much and it's going to be quite challenging for her to meet the needs. Finding a solution, she took a step and discussed her concept on an online public community of entrepreneurs and to her surprise she received a good number of positive responses from investors around the world. Anyhow, after interaction with few investors, she surmise to take funding from a Melbourne based investor.
Subsequently within two months, she successfully developed and launched her product called "Virtual Tour for 5 star hotels" and named her startup as G for Gestures. "The product includes a body sensor along with Virtual Reality content. As the user stands in front of the sensor, he is easily able to move and experience the interior, travel through different rooms, experience the outside view with his natural hand movements, thus providing the customers to decide according to their choice. It is first of its kind in the market, an integration of Virtual Reality and Gesture Technology", mentions Rachana.
Representing 21st Century Women
It is estimated that the global gesture recognition market will witness exponential growth and post a tremendous CAGR of over 73% by 2020.In this case, Rachana is targeting to come up with more creative and excellent products in coming days which would take some time to execute in order to match up with her competitors, touching the spectrum of Real Estate and Experiential Marketing where the customer can experience the advancement of technology. Additionally, she aims to create something that would be helpful and beneficial to larger audience.
With a national presence, G for Gestures presently is run by Rachana along with two freelancer and two interns. At this young age, when most of the students engage themselves in hanging out with friends in weekends or simply surfing social networking sites, Rachana prefers to devote her time in meeting new challenges and interacting with renowned and experienced personalities from the industry who provides her with immense and valuable advices and suggestions.
On a note of being a women entrepreneur, Rachana further mentions, "All the girls should come out of their comfort zone and prove their ability to people who thinks that girls are less capable than boys. There would be ups and down during your journey, but the key is to stay focused and learn from your failures". Hence, shutting down all the negative mouths who think girls are weak and cannot taste victory, Rachana Bagde is writing a new story and touching new heights in the arena of technology.