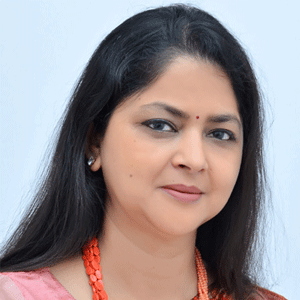 Ritu Gupta
Vice-Chairperson
Jagran Institute of Management was set up in the year 2006 under the benevolence of Jagran Group, a leading name in the media industry preserving professional and ethical value. The institute was established with the mission to highlight 'EDUCATION, EMPLOYMENT, EMPLOYABILITY' aligning with Honourable Prime Minister Narendra Modi's dream of Atma Nirbhar Bharat with 'SKILL, UPSKILL, RE-SKILL'.
With the dynamism and challenges growing across the world preparing students for the Industry is a challenge, however, Jagran Education Foundation ( JEF) has been spreading excellence in education from the past three decades by establishing centers of higher learning through their other sister concerns like Jagran Degree college, Jagran Institute of Animation, Jagran Institute of Mass Communication along with K-12 schools in Uttar Pradesh and the NCR.
"Our methodology includes adapting to change and Innovative thinking. This is an ongoing process and our business school is constantly experimenting and innovating to stay at the forefront. We encourage students to come up with new and creative solutions to problems and see opportunities where others may not. In today's business world, it is not sufficient to emphasize on traditional business education alone. It is about thinking out of the box, taking risks and constantly seeking new ways to improve and grow", shares Ritu Gupta, Vice-Chairperson, Jagran Education Foundation.
Established in the heart of Kanpur city with a lush green campus, JIM houses a huge playfield, basketball & Volley Ball Court and a large Cafeteria. The building is air conditioned and the entire campus has wireless internet connectivity at all locations for uninterrupted access. Jagran ICT resources are one of the important and mandatory needs of a Business School.