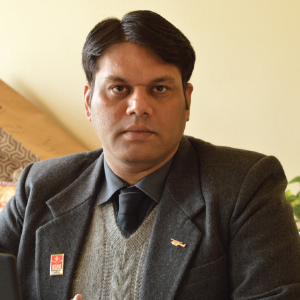 Dr. Alok Satsangi
Dean and Principal
NSHM Knowledge Campus, Durgapur which is extensively well known in the Eastern Part of the country for being a foremost brand in the education vicinity providing eminence undergraduate, postgraduate level proficient and certificate courses need no introduction. Established more than two decades ago NSHM is all about to deliver innovative education products and services to bring out industry-ready professionals, researchers, advanced learners, educators, and entrepreneurs, who can take the best care of people, planet and profit. NSHM Knowledge Campus, Durgapur emphasizes on experiential learning and building an ever-expanding knowledge base involving knowledge partners and communities where information and ideas flow freely in an open and friendly atmosphere which make it different from others.
The B School was vision is to set up a knowledge hub where careers follow students and not the other way round. NSHM leverages the best that enables academic institutions to deliver new and more engaging models of knowledge management across campuses thereby creating a new, vibrant and futuristic learning environment.
NSHM Knowledge Campus, Durgapur has the following numerous institutions under its umbrella such as NSHM School of Hotel Management, NSHM Business School, NSHM Institute of Media and Design, NSHM College of Pharmaceutical Technology, NSHM College of Management and Technology and NSHM Faculty of Engineering & Technology. NSHM Knowledge Campus, Durgapur is on a fast track. In ten years, NSHM Knowledge campus, Durgapur, has become one of the best educational destinations in India that have successfully created industry-ready professionals, researchers, and entrepreneurs.
An Educational Fountain
Affiliated to "West Bengal University of Technology newly named as Maulana Abul Kalam Azad University of Technology". All NSHM courses are futuristic in nature and in sync with the needs of the global industry and delivered by top faculties using world-class infrastructure that combines practical hands-on training, classroom teaching, and e-learning tools and extra-curricular activities. NSHM Knowledge campus, Durgapur, has created an interactive and stimulating learning environment by encouraging student activities, events, workshops, seminars, fests, festivities, competitions, gym, student common rooms, indoor