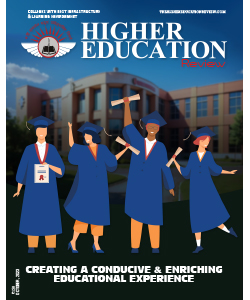 Top 10 Colleges With Best Infrastructure & Learning Environment – 2023
Fostering Futures: Top Colleges with State-of-the-Art Infrastructure

Colleges with top-notch infrastructure and conducive learning environments offer numerous advantages to students. These advantages encompass academic, personal, and professional growth, fostering an optimal environment for success and development. Firstly, outstanding infrastructure facilitates effective learning. State-of-the-art classrooms, well-equipped laboratories, and modern libraries create an environment conducive to academic excellence. Advanced technology and resources enable interactive and engaging teaching methods, stimulating critical thinking and problem-solving skills. This cultivates a sense of community, enhancing interpersonal skills and preparing students for the collaborative nature of the professional world.

The Pinnacle of Learning: Cutting-Edge Facilities and Flourishing Academics

Institutions with excellent infrastructure often attract a highly qualified and experienced faculty. Professors have access to cutting-edge facilities and resources, enabling them to deliver high-quality education. This, in turn, enriches the learning experience for students, as they benefit from the expertise and guidance of knowledgeable educators. Furthermore, colleges with top-tier infrastructure often offer a wide array of extracurricular activities. Modern sports facilities, cultural centers, and recreational spaces contribute to a holistic development of students. Engaging in extracurricular activities promotes physical well-being, creativity, and time management, fostering a well-rounded skill set crucial for personal growth and future success. Advanced laboratories and research centers encourage students to engage in innovative projects and academic exploration. This hands-on experience prepares them for research-oriented careers and contributes to advancements in various fields. In conclusion, colleges with exceptional infrastructure and learning environments offer a plethora of advantages, ranging from academic excellence and personal development to professional opportunities. These advantages create a foundation for a successful and fulfilling educational journey, preparing students for prosperous futures.

This issue of Higher Education Review talks about some of the professionally managed colleges in the country, which has been nurtured with best technical and professional infrastructure and assistance from efficient and skilled faculties ensuring delivery of quality higher education and research. This issue spotlights a list of 'Top 10 Colleges with Best Infrastructure & Learning Environment– 2023'; the list has been crafted by a team of Industry veterans, CEOs, VCs and the Higher Education Review editorial team.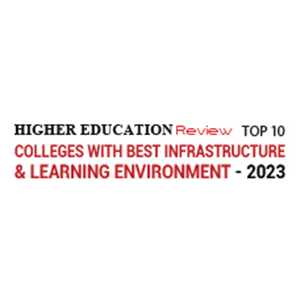 Nominate College/Institute
×
Nominate College/Institute
Our subscribers play a decisive role in finalization of our annual list of "Top 10 Colleges With Best Infrastructure & Learning Environment – 2023" by nominating those which have served them with excellence and are praiseworthy. If you feel there is a College/Institute that deserves to be on our annual list, do write to us about them mentioning their value proposition.
Data not inserted