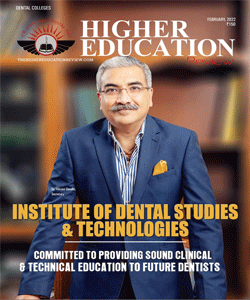 Top 10 Dental Colleges - 2022
Dental degrees in India are recognized by the Dental Council of India (DCI) and are offered in various specializations, including Prosthodontics, Orthodontics, Periodontology, Oral & Maxillofacial Surgery, Oral Pathology, Oral Medicine & Radiology, Public Health, Endodontics, Microbiology, Radiology & Imaging Science and many more. India is one of the countries where cost for dental treatment is less when compared to other countries. Being second in the world population, a degree in BDS or any branch of medicine is a lucrative option for young aspirants in the country.

A dental professional must be able to work in critical and dynamic environment, should be dedicated, and should have professional commitment & medical ethics. Colleges ensure that they develop these traits & personality and mould a professional from a student within the five year time spent in the collage. Presently, there are 310 collages in India offering degree in BDS, each having an intake of 100 seats for the course. This makes the profession highly competing. The rapid surge of corporate dentistry which are growing and multiplying at a significant pace is posing a threat to private practices. This competition in the profession has created a cut-throat competition among aspirants to get into the top collages in the country and thereby secure their future.

India is home to some of the top rated colleges & universities to pursue Dental courses. This issue of Higher Education Review talks about some of the professionally managed collages in the country which have been nurtured with best technical & professional infrastructure and assistance from world-class teaching facilities & faculties, ensuring delivery of quality dental education and research. In this issue, we bring into limelight a list of `Top 10 Dental Colleges - 2022' that offer a wide range of courses and high quality education, equipped with state-of-the-art infrastructure.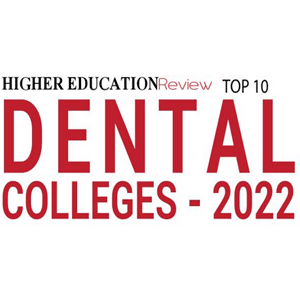 Nominate College/Institute
×
Nominate College/Institute
Our subscribers play a decisive role in finalization of our annual list of "Top 10 Dental Colleges - 2022" by nominating those which have served them with excellence and are praiseworthy. If you feel there is a College/Institute that deserves to be on our annual list, do write to us about them mentioning their value proposition.
Data not inserted