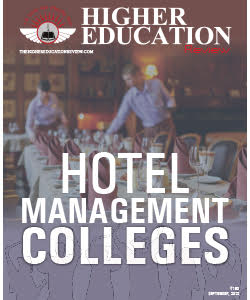 Top 10 Hotel Management Colleges - 2023
Participate in the New Dimensions of Hospitality

Higher education helps people develop the skills and knowledge they need to succeed in today's world. It also helps to prepare people for the workforce. This is especially true for people who are interested in higher education. They can learn skills that will help them get a job and earn a living. Higher education is a rich cultural and scientific asset which enables personal development and promotes economic, technological and social change. It promotes the exchange of knowledge, research and innovation and equips students with the skills needed to meet ever changing labour markets.

Importance of Hotel Management Course: The sought-after soft skills and business knowledge you gain through studying Hotel Management can broadly be applied across a range of sectors, including: tourism, aviation, food and beverage, events management, festivals and the cultural sector, Ecommerce, retail, marketing and sales. A hotel management course teaches students to take on the entry level as well as top level managerial and executive positions in the hotel. Corporations and firms are ready to pay individuals a high annual package who are going to handle their important business operations at a given job role.

Significance of Hotel Management colleges: Hotel management or hospitality management is one of the upcoming and popular courses in India. Hotel management is one course which is full of challenges and new activities every day. Indian hospitality and hotel management sector is booming in India and it is expected that there would be billions of turnovers till 2023. Hotel management or hospitality management is a study about the whole hotel and tourism industry. It teaches a lot about the services being given to the customers and many other things. The course shows the reality that running a hotel or a tourism sector does need a full army. With a degree in hotel management, you can fill in for many job options such as a chef, hotel manager, bartender, and steward. There are many further specializations available in the field of hotel management such as tourism, food and catering services, housekeeping services, front office operations and more.

This issue of Higher Education Review talks about some of the professionally managed colleges in the country, which has been nurtured with best technical and professional infrastructure and assistance from efficient and skilled faculties ensuring delivery of quality higher education and research. This issue spotlights a list of 'Top 10 Hotel Management Colleges – 2023', the list has been crafted by a team of Industry veterans, CEOs, VCs and the Higher Education Review editorial team.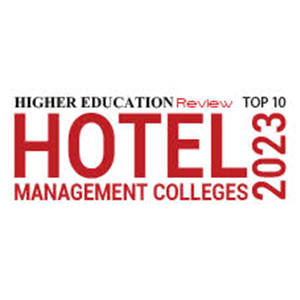 Nominate College/Institute
×
Nominate College/Institute
Our subscribers play a decisive role in finalization of our annual list of "Top 10 Hotel Management Colleges - 2023" by nominating those which have served them with excellence and are praiseworthy. If you feel there is a College/Institute that deserves to be on our annual list, do write to us about them mentioning their value proposition.
Data not inserted