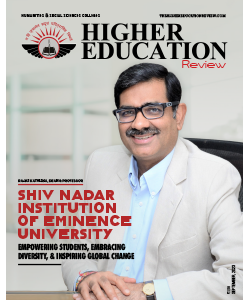 Top 10 Humanities & Social Sciences Colleges - 2023
A Mankind's Organization:

Students following this pathway develop strong communication and critical thinking skills, as well as an understanding of cultural differences. Humanities gain an understanding of many elements of human life, history, philosophy, and expression. The field of study teaches students how history, art, music, religion, and culture have shaped the modern world. While on one hand, the Humanities centres on art, music, and literature, on the other hand, Social sciences include administration, political science, psychology, education, and economics.

Breadth of Research:

Bachelor's degree in humanities and social science in India opens lucrative work opportunities for students. There are several chances in public service, NGOs, finance, and serving as consultants to MNCs and other government-run businesses. A recent poll indicated that three of every four students pursuing a college degree expressed interest in humanities. 74 percent of the 36,000 students who answered the poll from nine different locations were interested in learning about the scope of humanities. Humanities career prospects have expanded in recent years.

Shutdown of Humanities:

The unemployment rate among people who received a bachelor's degree in the humanities and subsequently earned an advanced degree was 2.4 percent, only slightly above the 2.1 percent rate among all graduates who had earned an advanced degree. The Arts major (also known as Humanities) is a very popular and diverse major for students after 10th grade. This course is perfect for students with a theoretical mind and for those interested in subjects such as history, geography, political science, psychology, sociology and languages.

This issue of Higher Education Review talks about some of the professionally managed colleges in the country, which has been nurtured with best technical and professional infrastructure and assistance from efficient and skilled faculties ensuring delivery of quality higher education and research. This issue spotlights a list of 'Top 10 Humanities & Social Sciences Colleges – 2023', the list has been crafted by a team of Industry veterans, CEOs, VCs and the Higher Education Review editorial team.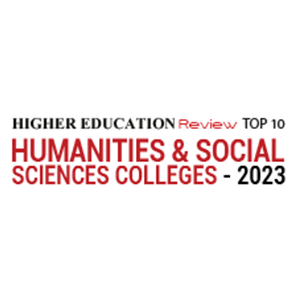 Nominate College/Institute
×
Nominate College/Institute
Our subscribers play a decisive role in finalization of our annual list of "Top 10 Humanities & Social Sciences Colleges - 2023" by nominating those which have served them with excellence and are praiseworthy. If you feel there is a College/Institute that deserves to be on our annual list, do write to us about them mentioning their value proposition.
Data not inserted