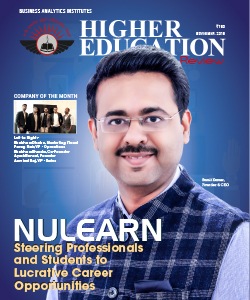 Top 10 Institutes for Business Analytics Programme - 2019
Being recognized as one of the chattels for the organizations, data plays a very imperative role in today's business portfolio. The importance of data has relatively given a boost to the demand for business analytics deployed by the companies to find relationships and patterns of the existing data to predict future outcomes. Apart from this, the profile of business analytics also diversifies into statistical analysis, data mining, concurrent analysis, multivariate test, and predictive modeling. Being one of the key features for any business firm, business analytics contributes towards optimizing operations, enhancing revenue by reducing the operational cost, improving better customer relationships, and predicting the imminent trends in the market by facilitating accurate business plans and strategic decisions. One of the most sought out career options in the IT and ITES industry, Business Analysts work intimately with the management team of an organization providing support in data-driven decision making which impacts matters related from product development to marketing. Taught as a specialization in MBA, Business Analytics course is flourishing proportionally along with the growth of business and corporate sectors. Currently, with more than 1.2 million business analysts across the country, India is estimated to be one of the leading contributors of business analysts to world mercantile in the future.

Considered as one of the most promising career paths, the growth of business analysts has also lead to the growth of business analytics institutes across the country. Successfully merging the study of analytics and project management, these institutes compete amidst each other to provide optimum education along with job perspectives. Enhancing the analytical and communication skills, these institutes mold the students as per the requirement and demand of the industry enabling them to perform immaculately facing real-time situations.

To bring out some of the eminent institutes imparting impeccable education in the domain into the notice of our young aspirants, we at The Higher Education Review has come up with a listing of 'Top 10 Institutes for Business Analytics Programme - 2019'. Reviewed and scrutinized by the intellectual individuals of this field, these institutes deliver exceptional education along with outstanding infrastructure, campus facility, and placement opportunities. We hope the list assists the individuals who seek to make a bright and prospering career in business analytics deciding their destination of education.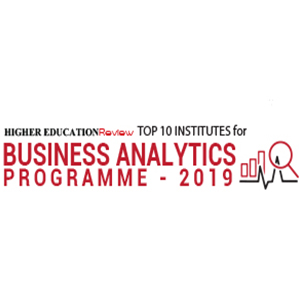 Nominate College/Institute
×
Nominate College/Institute
Our subscribers play a decisive role in finalization of our annual list of "Top 10 Institutes for Business Analytics Programme - 2019" by nominating those which have served them with excellence and are praiseworthy. If you feel there is a College/Institute that deserves to be on our annual list, do write to us about them mentioning their value proposition.
Data not inserted