Top 10 Mass Communication Colleges - 2022
The diversity of mass media formats and communication practices allows for creativity and flexibility in career selection. Mass communication (or communications) can be defined as the process of creating, sending, receiving, and analyzing messages to large audiences via verbal and written media. It is an expansive field that considers not only how and why a message is created, but also the medium through which it is sent. These mediums are wide-ranging, and include print, digital media and the Internet, social media, radio, and television. As mass communication encompasses many different fields, from journalism to digital marketing, public health education, and public relations, students may find that a major in one of these aforementioned areas will also give them training in mass communication theories, concepts, and best practices. For example, an undergraduate major in journalism may cover mass media ethics and mass communication theory, while a major in marketing will typically discuss designing messages for mass audiences. Some schools also offer undergraduate majors that combine instruction in mass communication with an intersecting field; for example, there are bachelor's degree programs in journalism and mass communication. In addition to being an impactful field of applied professional practice, media and mass communication is also a research area within academia. Scholars in the field study and research subjects such as how media is used and its corresponding effects; the processes behind media production; regulatory, ethical, and legal issues in mass communication; mass media theory; and related cultural and gender issues. For current and prospective undergraduate students who know they want to work in large-scale media development, whether in journalism, marketing, public relations, or political and/or social justice communication, a bachelor's degree in mass communication can provide important foundational training to step into a role within one or more of these areas. Bachelor's degree programs in mass communication generally feature core courses on topics such as mass communication theory and history, mass media writing, editing and publishing for mass audiences, and media law and ethics, as well as electives in specific areas of mass communication, such as writing and research for journalists, public relations writing, digital advertising, video production, television broadcasting, and documentary production. Higher Education Review, in this issue presents a list of `Top 10 Mass Communication Colleges - 2022' who have been offering best-in-class education in the country. The following list has been prepared after being closely scrutinized by a distinguished panel of judges including CXOs, analysts and our editorial board.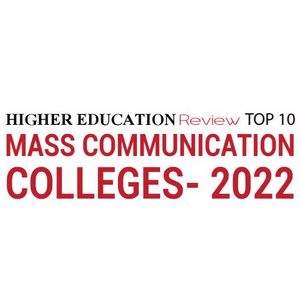 Nominate College/Institute
×
Nominate College/Institute
Our subscribers play a decisive role in finalization of our annual list of "Top 10 Mass Communication Colleges - 2022" by nominating those which have served them with excellence and are praiseworthy. If you feel there is a College/Institute that deserves to be on our annual list, do write to us about them mentioning their value proposition.
Data not inserted