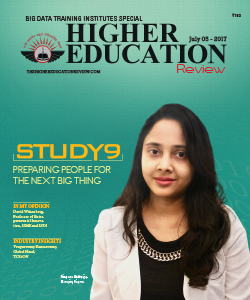 Top 10 most promising Big Data Training Institutes 2017
In the 21st Century, big data has captured the world's attention, with talk of the new industrial revolution based on information, where data is considered as one of the most valuable information. The world has become excited about big data and advanced analytics because the potential for its impact is big. The ability to organise and analyse massive amounts of data is one of the hottest skills in data analysts. With India currently among the top 10 countries in terms of data analytics, the opportunities are limitless. The Industry now faces new challenges in use of big data technology to analyse consumer behaviour for which they need data scientists. 

India has around 600 data analytics firms and many new start-ups rising every year, providing a big demand for Data Scientists. The reason for most industries preferring Big Data is because it is the oxygen of the digital era. Indeed, the shortage of data analysts is becoming a serious constraint in some sectors. A single course of four to nine months provides the young data researchers with a hefty amount. 'Big Data' has also been highlighted by the UK government as the 'Eight Great Technologies' that will help drive economic growth. 

Much of the current enthusiasm for big data focuses on technologies which include Hadoop and other open-source software. We help the students from choosing the right program, which will help them to get trained in Big data using the advanced programming framework. We also focus on the institutes which let the students choose the course offered at various levels starting from Beginners to advanced level. The institutes, which are listed in the Top 10 Most Promising Big Data Institutes in India 2017, will help the learners to equip with specialist knowledge in this exciting field and allow them to explore a range of advanced topics in Big Data. The institutes listed here will help the students not to just in getting training in big data, but also provide them with skills that will make them industry-ready.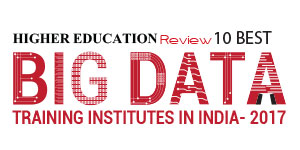 Nominate College/Institute
×
Nominate College/Institute
Our subscribers play a decisive role in finalization of our annual list of "Top 10 most promising Big Data Training Institutes 2017" by nominating those which have served them with excellence and are praiseworthy. If you feel there is a College/Institute that deserves to be on our annual list, do write to us about them mentioning their value proposition.
Data not inserted