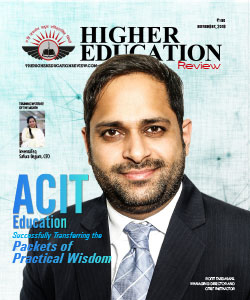 Top 10 Promising Networking Institutes - 2018
India is going digital. Cloud, mobile, the Internet of Things (IoT) and everything-as-a-service – we are experiencing all here. While companies in the country are adapting disruptive technologies and hybrid networks, countless more users, applications and devices are being added every day. However, technological development will not transform into productivity growth without sufficient investment in skills and it will make us incompetent to compete in an increasingly knowledge-based global economy. Now, let us have a look into the situation on the ground. India produces than 30 lakh graduates who can join the Indian job market every year. However, only about five lakh are considered employable. This gap between skills and employment will surely be a major challenge to the economic growth of our country, if we do not address at the right time. Indeed, we have less than 4 percent of the workforce as skilled-labourers, while China has 47 percent, Germany 74 percent, Japan 80 percent and highest is in South Korea at 96 percent.

Networking, which is fundamental to next-generation converged infrastructures, will be one of the most affected industries because of the growing skill gap among the graduates in India. The next generation of IT will have at its core a robust foundational network. Trends driving network upgrades, including growth of voice and video over IP, the proliferation of network-attached and wireless devices, virtualization and cloud computing, are all contributing to continued demand for competency in the enterprise. An increasing challenge for enterprises to add intelligence to their networks to be able to handle traffic flows, complex applications, and quality-of-service requirements and to ensure that applications are aligned with business needs, team talent to keep pace with changes in technology and maintain an IT team's high level of performance will increasingly become a key strategic advantage. As the role and importance of the network within organizations grows, so does the requirement for skilled IT professionals.

Understanding the importance of meeting the demand-supply needs, we have come up with 'Top 10 Promising Networking Institutes – 2018,' where the learners can find cutting-edge networking training, followed by guaranteed placement guidance. We strongly believe that it is important to bring the names of such training institutes into the limelight, so that, their ideologies and methodologies can inspire other institutions in the country to drive on a better path and help India come out of its cocoon to become a nation of technological brilliance.

Nominate College/Institute
×
Nominate College/Institute
Our subscribers play a decisive role in finalization of our annual list of "Top 10 Promising Networking Institutes - 2018" by nominating those which have served them with excellence and are praiseworthy. If you feel there is a College/Institute that deserves to be on our annual list, do write to us about them mentioning their value proposition.
Data not inserted