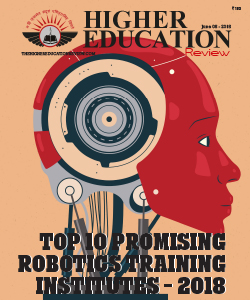 Top 10 Promising Robotics Training Institutes in India 2018
Although at its nascence, Robotics is going through an exciting phase in India. There is no doubt that with the growing market for technology and innovation, robotics as a branch is all set to revolutionize the industrial scenario of the country. The advancement of AI has demonstrated an advent of intelligent robots that can perform tasks similar to that of a human being. Apparently, robotics promises to bring the same result as computer systems have brought in services and other sectors since its introduction. Hence it's safe to say that a learner of any age should embrace this area and accumulate substantial knowledge making sure that they are 'future ready'. It is, in fact, the necessity to train the youth regarding the nuances of robotics as to get assured that they grow into innovative individuals, which will later help them remain safe from the threat of taking away jobs by robots. Several institutions including Government organizations have also started to consider robotic education as a need of the hour and conferred primary importance by introducing schemes under which training will be rendered to the young minds of the nation. This sphere of study is for those who have an inherent interest to create and design going beyond the bookish 'knowledge'. Whether you want to develop artificial intelligence software for use in robots, business intelligence software or video games, an in-depth study of Robotics provides a solid foundation for launching your career. Creativity, intelligence, dedication and skills altogether are the factors that can intensify the aspirants' journey of becoming a Robotics expert. With each passing day, a new training institution and establishment are coming up to give the robotics enthusiasts an experience of basic to advanced level robotics technology through conducting workshops and classes. But with the random number of organizations sprouting in the recent years, it has turned out to be a tough task for stakeholders of education to select the appropriate training center which will stand upon their expectations. To erase this confusion, we at Higher Education Review after detailed examinations have hand-picked a few stand out robotics training centers as 'Top 10 Promising Robotics Training Institutes in India 2018'. The list which has been prepared by our expert panel and researchers intends to simplify the queries that arise before selecting a platform that will provide quality robotics training.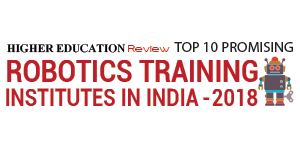 Nominate College/Institute
×
Nominate College/Institute
Our subscribers play a decisive role in finalization of our annual list of "Top 10 Promising Robotics Training Institutes in India 2018" by nominating those which have served them with excellence and are praiseworthy. If you feel there is a College/Institute that deserves to be on our annual list, do write to us about them mentioning their value proposition.
Data not inserted