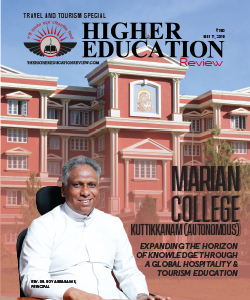 TOP 10 PROMISING TRAVEL AND TOURISM INSTITUTES IN INDIA - 2019
Travel and tourism industry has huge growth potential in India. In the recently held meeting organized by Internet and Mobile Association of India (IAMAI), DhruvShringi, Co-Founder & CEO, Yatra.com said, "Travel and Tourism Industry has emerged as one of the major contributors to India's GDP. It is flourishing at a rapid pace and is poised to become a US$50 billion industry over the next few years. In fact, with the growth of disposable incomes and travel expense, India will witness 20 percent growth in the number of air travellers." With already 84 million people being employed in this industry, this comment by the expert indicates that the industry is poised to develop more employment opportunities for the youth of the country in the coming years. On that note, it also becomes imperative to mention that India's revenue from travel and tourism stood at $234 billion. Before 2018, 81.2 million people were employed in the tourism sector, the highest as compared to any other sector. 

Being one of the biggest employment generators, the industry is looking for professionals who are not only well-qualified but also are ready to work from day one and are already instilled with the skills that are required for excelling in the travel and tourism field. The field of travel and tourism primarily deals with taking care of tourists, hospitality management, travel management, tour management and so on. Hence, it offers diverse job opportunities. Students of the country are also showing tremendous interests towards this field and opting to pursue varied courses- from Diploma to Certificate Courses and Bachelors to masters and PG Diploma courses. Considering the high demand among the student community, endless institutes around the country are also getting established, making the students puzzled in identifying the best institutes. This made us at the Higher Education Review to take the plunge to prepare a list as "Top 10 Promising Travel and Tourism Institutes in India- 2019" which includes the institute that is taking the travel and tourism industry to next level. 

Our expert panel and researchers have put a substantial amount of time in choosing each of the institutes based on the quality of the program, the types of courses offered, the faculty, rankings, awards, and reputation of the institute. We wish the next few pages will assist you in getting a distinct idea on which institute suits your expectation.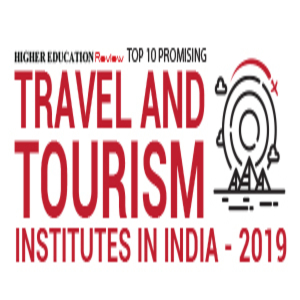 Nominate College/Institute
×
Nominate College/Institute
Our subscribers play a decisive role in finalization of our annual list of "TOP 10 PROMISING TRAVEL AND TOURISM INSTITUTES IN INDIA - 2019" by nominating those which have served them with excellence and are praiseworthy. If you feel there is a College/Institute that deserves to be on our annual list, do write to us about them mentioning their value proposition.
Data not inserted