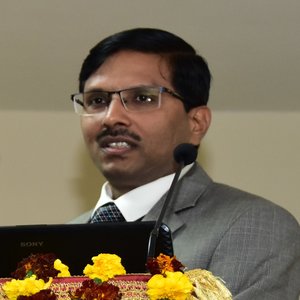 A Doctorate from Lucknow University, Dr. T R Pandey holds over a decade of experience in academics. Presently he is serving as the Professor and Director at AKGIM.
In an era, where development is happening like never before and everyone is rushing towards achieving success in the shortest possible time, what massively miss are the basic human values. Instituted in the year 2008, Ajay Kumar Garg Institute of Management (AKGIM) aptly understands this lacking of essential value in the 21st-century workforce and thus guarantees its students to take away home an education and experience that will not only make them employable, but also develop them as a good human being. The institute is endowed with a team of well-trained and certified teachers who can give the students lesson on how to live life coupled with letting them pursue a compulsory course on Universal Human Values and Professional Ethics (UHVPE).
"The world is in need of more sensible leaders who can make a positive difference. We at AKGIM, since the inception, have been generating such leaders," pinpoints Dr. T R Pandey, Director, AKGIM. Based in Ghaziabad, a part of the National Capital Region of Delhi, AKGIM is affiliated to Dr. A.P.J. Abdul Kalam Technical University (A.K.T.U), Lucknow and is also certified by BSI of United Kingdom for its system and quality parameters. "This certification from BSI helps us in raising the standard of the education and in smooth functioning of varied operations of the institute," adds Dr. Pandey. AKGIM is an initiative of Indian Institute of Management and Engineering Society, which runs the prestigious Ajay Kumar Garg Engineering College, recipient of Academic Excellence Award as the best Engineering College in U.P under A.K.T.U. The institute annually enrolls students from different levels of society ranging from remote areas to metro cities for ensuring a good diversity and harmony in the classroom.