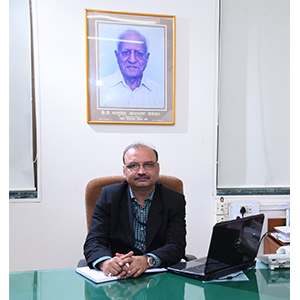 The Director of Dr. V. N. Bedekar Institute of Management Studies, Dr. Nitin Joshi has completed his Ph.D. in Management. Hee further holds a Master in Engineering from SGSITS Indore and Bachelors in Engineering from the University of Pune. His core areas of interest include Operations Management, Materials Management, and Marketing management.
With sheer honesty and dedication of evolving the Thane city of Maharashtra into a hub for quality management education, in the mid-1970s, Dr. V. N. Bedekar had come forward to initiate a Department of Management Studies. Later, in the pursuit of fulfilling his father's dream, in the academic year 2005-06, Dr. V.V. Bedekar laid the foundation of Dr. V.N. Bedekar Institute of Management Studies (Dr. VN BRIMS). Achieving newer heights with each passing years under the supervision of Dr. V.V. Bedekar, the institute has been able to meet the need of an excellent B-school in the city, where students are trained to become global leaders. However, BRIMS ardently follows the model of 'Direction, Alignment, and Commitment', which encourages the faculty members first understand and identify the potentialities of the youth by interacting and using psychometric tools, followed by aligning their energies in the right direction and help them to be on the path of success.
The institute also abides by to maintain a close relationship with the industry as consultant, knowledge partner or skill builder, believing this factor greatly assists in bringing optimum opportunities for the students. "We enjoy association with a host of organizations, including Pitambari Product Ltd, where we have trained more than 100 professional, with Aashida Electronics for conducting 11 months long-term programme for senior-level employee, with co-operative banks like TJSB and with NSE and NISM for skill building purpose of our students and teachers," proudly says Dr. Nitin Joshi, Director, Dr VN BRIMS. Currently, running two major Management courses like PGDM and MMS, the institute also conducts a range of Specialized Skill development Program such as Digitial Marketing, Management Development Program and so on.