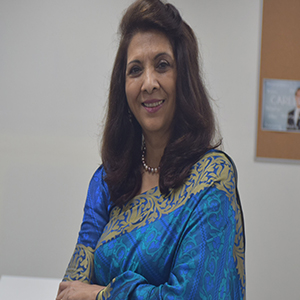 Dr. Indu Shahani, President & Chairperson- ISDI, ISME, ISDI, WPP and Founding Dean of ISME, is the driving force behind the institution's energy and excellence. Along with four decades in academics, she has been Sheriff of Mumbai, Member of the University Grants Commission, Principal of HR College of Commerce & Economics, Vice-Chair on the Board of Governors of the International Baccalaureate. She currently sits on corporate boards of Colgate, Bajaj Electricals, United Spirits, BNP, Franklin among others.
Meena Desai, Associate Dean
With a teaching experience of over 15 years, Meena is widely loved by her students and is a passionate teacher at heart. In 2016, Meena was awarded the "Emerging Woman Leader" by the Higher Education Forum. Meena has been the recipient of a fully paid Capacity Building Scholarship for a Masters in Human Resource Management at the University of Westminster, London (2007-2008). She also holds a Post Graduate Diploma in Education Management from NMIMS University, Mumbai. Currently, she is pursuing her Ph.D. from the University of Mumbai.
As the business world is growing like never before, a large section of students in our country carries innovative ideas in their mind with which they want to make a big brand in the industry. However, there is an absence of an appropriate guidance and platform to will help them to not only execute their ideas but also get access to the scopes, which will bolster their respective plans. "The learners of the contemporary era are extremely passionate about their dreams. They just need the right exposure and platform, and we at ISME- School of Management & Entrepreneurship are immensely resolute to give them the same by going beyond the limited syllabus of the business studies," says Dr. Indu Shahani, Founding Dean, ISME. Established in the 'city of dreams', Mumbai, the institute gives enough scope to the aspiring entrepreneurs and job seekers in the form of rich academic acumen, unmatched opportunities, and robust hands-on training.