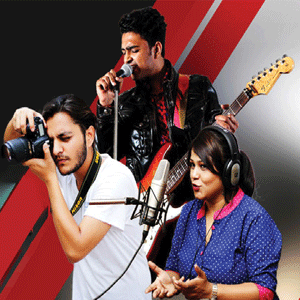 Committed to excellence in film and television education and training, the Asian Academy of Film & Television (AAFT) has emerged as a global pioneer in imparting industry-oriented education in the domains of media and arts. The Group was founded in 1993 by Mr. Sandeep Marwah (President) and is co-headed by Akshay Marwah (CEO). What started as a journey in pursuit of excellence more than 25 years ago, has now attained the flagship of Asia's leading media education center through its persistent efforts in nurturing talents.
With a vision to produce global leaders of the highest intellectual and ethical caliber, the mission of AAFT is to inspire, inform, engage, empower today's youth to become tomorrow's leaders in the field of media and entertainment. Continuously working towards the motto of `Education with Growth', AAFT has not only been offering the best professional education but is also actively contributing towards building human capital for the nation.
A Premium Film Institute
AAFT offers a wide range of UG/PG diploma and degree courses in the field of Mass Communication and Journalism, Cinema, Fashion, Animation, Advertising, Music, Photography, Data Science, Management, Health & Wellness, Hospitality and more. Its steadfast commitment has made it the largest education hub in Asia which has trained more than 20,000 professionals till date. Enjoying a global status with the right blend of education and research, it also has many international collaborations to provide students the requisite global awareness and perspective.
The institute boasts of state-of-the-art infrastructure with an in-house radio station, news and PR agency, film studios, Film Production companies, research