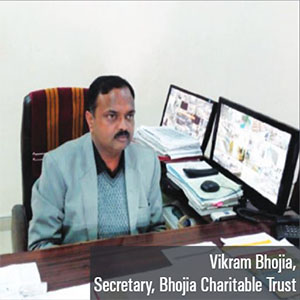 Mr. Vikram Bhojia
Secretary of the trust
Budh (Baddi) town of Solan District in Himachal Pradesh imbibes the beauty of mighty Himalayas. Far away from the cacophony of city life, this town offers a conducive-environment for learning. Located in Budh town, Bhojia Dental College and Hospital is the first and only dental college to be accredited with NAAC since 2016, in the state of Himachal Pradesh. Since its inception in 1997 by Bhojia Charitable Trust under the guidance and constant support of Sh. R.K. Gupta; President of the trust; the institute has been imparting high quality education and medical facilities in the northern belts of the country.
Completing two decades of glorious years of excellence in the academic field under the leadership of Mr. Vikram Bhojia, Secretary of the trust; the college has cultivated a decent repute with the medical industry that helps the students to stay upgraded with the contemporary information and happenings. "We are fortunate to share a cordial relationship with the industry professionals and organizations. This highly leads us to the path of excellence and more opportunities," says, Dr. Ajay Chhabra, Principal, Bhojia Dental College, and Hospital. The college has signed MoU with Colgate, through which meritorious students are rendered scholarships and a MoU with Indian Dental Association (IDA) for National Oral Cancer Registry Program.
Owing to the long heritage of existence, the college relishes international collaborations with Universities in New Zealand, Japan and Malaysia and other Dental Universities within India like KGMC, Lucknow and Nair Hospital, Mumbai. Dr. Rishabh Kapila, Dean-Student Affairs, shares, "Our students regularly visit these universities for elective postings where they can learn dentistry from a different perspective altogether." These collaborations assist the students in interacting with the professors and students from various parts of the world and share insights on different aspects of dental education.
Collaborative Learning Model
The institute offers following