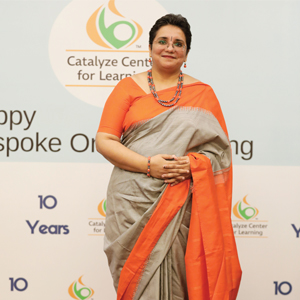 Students who talk less or feel discomfort in asking questions in a class of many get left out of understanding the true concepts. Most of the time, their doubts remain unresolved. Since they do not clarify doubts, they fail to achieve their true academic potential. In order to give solutions to the learning problems that such students face, some online portals have intervened in the education market. Intervention made by portals like Catalyze Center for Learning (Catalyze) that has been using online mediums to deliver customized and personalized classes is remarkable. This portal is the 'brainchild' of Dr. Rajashree Krishnaswamy, who started CCL with an objective of imparting bespoke education, catering to the unique learning needs of students that face difficulty in classroom learning. Catalyze Center for Learning (Catalyze) offers bespoke programs to students all over the world through live interactive online classes.
Catalyze's Momentum Gain
It started in 2008 when Dr. Rajashree got to interact with many students while pursuing her Ph.D. She recognized the problems, foreseeing the huge potential of online learning. "You know, students appear privately in NIOS (The National Institute of Open Schooling) or Cambridge for alternate careers. Students who like football, music or anything else, but cannot manage time, are given the flexibility and the opportunities at Catalyze. "We have a nationally ranked squash player and two kids who are playing at the league in Spain taking Bespoke programs. Overall, learning is flexible in CCL," says Dr. Rajashree Krishnaswamy, Founder and CEO Catalyze.
Online learning is flourishing at the moment, where Catalyze's growth has been rising at an exponential rate. Catalyze became a PVT LTD company in 2016 and since then it is delivering Online bespoke interactive programs in several categories.