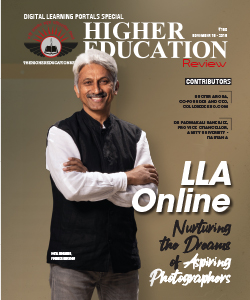 Top 10 Most Promising Digital Learning Portals - 2019
The current Indian education landscape is witnessing a transformation from classroom learning to digital learning. The evolution from an old school learning system that is being trapped between walls for hours, to studying from any place at any time using technology, the country has come a long way. With the easy accessibility of the internet using electronic devices especially smartphones and laptops, the students are shifting towards digital learning, as it is much more flexible than classroom learning. According to the few statistics, India has become the second-largest sector for e-learning after the US. The sector is expected to reach $1.96 billion by 2021 with around 9.5 million users enrolling in Digital Learning.

Today, learning has grown to a higher extent and digital learning had made education very convenient to the students. It has many advantages like we can take up interesting courses or skills and can learn from any horizon of the world and at any time. We can study according to our pace and the only things that are necessary are access to the internet and mobile or laptops. Digital learning mainly helps in saving time and money, those who cannot afford a full-time degree can study courses offered by popular colleges and universities globally via digital learning portals. The online certificates provided by the universities and colleges through digital learning portals are recognized in most of the companies in India. Also, the companies are encouraging their employees to take up certificate courses offered by digital learning portals.

Foreseeing the bright future of EdTech Industry, in the last few years, countless portals got commenced offering courses through online mode and students are in a dilemma regarding which portal will honestly and literally fulfill their requirements that they have as an online learner. In order to make the process of selecting the right Digital Learning Portal seamless, we at Higher Education Review have performed an explicit analysis of the best portals. Our expert panel and researchers have put a sizeable effort in choosing the ideal learning portals for the learners and prepared a listing as 'Top 10 Most Promising Digital Learning Portals - 2019'. We aspire; the next few pages will be able to erase the struggle of the students as well as professionals with enrolment in the appropriate digital learning portal.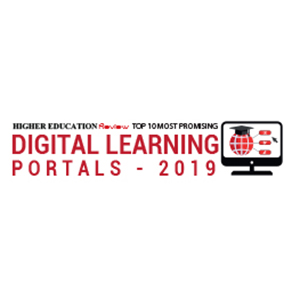 Nominate College/Institute
×
Nominate College/Institute
Our subscribers play a decisive role in finalization of our annual list of "Top 10 Most Promising Digital Learning Portals - 2019" by nominating those which have served them with excellence and are praiseworthy. If you feel there is a College/Institute that deserves to be on our annual list, do write to us about them mentioning their value proposition.
Data not inserted