have also introduced a world's first mastermind group for students in the name of "UbuntU". We are bringing to our students what is already very popular across the world for the top business people and senior professionals.
"Our three dimensional model of education is designed to transform the students into confident, competent and committed professionals", says Kali Prasad Gadiraju. The outcome based education at EThames, ensures success for all the students whether they are seeking employment, higher education or entrepreneurship. In partnership with TiE, Hyderabad, T-Hub and IIIT, Hyderabad we have set up an incubation centre for students who wants to pursue entrepreneurship and become job creators.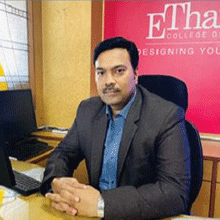 "We leave no stone unturned in transforming ordinary students into extraordinary business professionals. Instead of solely relying on lecturing, our faculty members use balanced mix of teaching pedagogies such as case teaching, simulations, role plays and project based learning etc., to teach various subjects. In addition, we actively engage students with various academic and non-academic clubs to ensure their holistic growth. Our clubs and internships ensure our students build a robust connect with the industry to not only ensure modernisation of the curriculum but also for outstanding placements", speaks Dr. Kunal Gaurav.
Kali Prasad Gadiraju, Chairman
Kali Prasad Gadiraju, Chairman, EThames College, Hyderabad: This pioneering educator strives to ensure that they nurture inspired learners who can have a positive impact on not just their lives but in the society as a whole.
Dr. Kunal Gaurav, Principal
Dr. Kunal Gaurav, Principal, EThames College, Hyderabad: Dr. Kunal aims to ensure that their students are equipped with the needed skills required to thrive in the modern world. Also through proper guidance he helps the students to reach their full potential as well.