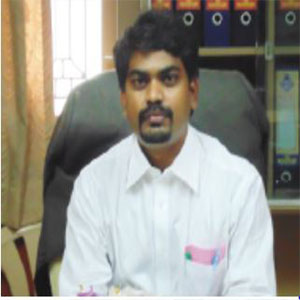 Dr. R. Govindarajan
Principal and Research Director
Dr. R. Govindarajan, Principal and Research Director
Having 18 years of teaching and research experience, Dr. R. Govindarajan has published/presented more than 60 research/review papers in various National and International Journals. Under his guidance, 20 students were awarded M. Pharm and 2 Ph.D. students are pursuing research work presently. He has been honored with "Best Principal of the Year 2015 Award" by Association of Pharmacy Professional at Invertis University, UP. He is a life member of Association of Pharmaceutical Teachers of India and Fellow member of Association of Pharmacy Professionals.
From a focus on medication compounding and dispensing to extended pharmaceutical care services, the functions and responsibilities of pharmacy professionals have evolved drastically over the years. In the contemporary healthcare environment, where there is a growing shortage of primary care physicians, trained pharmacists play an integral role in ensuring quality health care to the patients. Providing the aspirant pharmacists the right platform to grow and acquire the demanded skills, Hindu College of Pharmacy (HCOP) has taken the onus to contribute in the dynamic healthcare industry through producing adept pharmacy graduates since 1999. Situated in the heart of the Guntur city of Andhra Pradesh, and affiliated to Acharya Nagarjuna University (ANU), HCOP boasts of strong alumni network who are mostly handling notable positions in different organizations around the globe.
Maintained under section 3 of Societies Registration Act, 2001, the Hindu College of Pharmacy Alumni Association (HAA) was registered in 2015 which acts as a common space for the alumni of the institute to reach out to other alumni across various batches, branches and
interests along with getting in touch with the faculty members and present students. An asset to the institute, HAA coupled with HCOP Placement cell, which is headed by Dr. R. Govindarajan, Principal and Research Director, HCOP, works relentlessly towards placing the outgoing students. For instance, the recently conducted Placement Drive-2018 was a huge success because of their joint efforts where students got selected by prominent recruiters like Dr. Reddy's, NATCO, HETERO and alike. Carrying a rich legacy and reputation, the institute is endowed with an inspiring and dedicated team of faculty members who confirm to create a harmonious and friendly atmosphere in the classroom so as to enrich the teaching-learning process.

"The appropriate selection of pharmacy students is a challenging task. Therefore, we at HCOP, ask the aspiring students to go through GD, PI, and Web Counseling before starting the admission process," opines Dr. Govindarajan. The wide-ranging courses run by the institute include D. Pharmacy, B. Pharmacy, M.Pharmacy in five specialties, viz. Pharmaceutics, Pharmaceutical Chemistry, Pharmacology, Pharmaceutical Analysis, Pharmaceutical Management & Regulatory Affairs in addition to Pharma.D (6 years Doctor of Pharmacy Course) and Pharm.D Post Baccalaureate (3 years Doctor of Pharmacy Course). "HCOP prides itself for initiating a first of its kind PG course in Pharmaceutical Regulatory Affairs in the entire Andhra Pradesh," pinpoints Dr. Govindarajan.

Apart from the regular curriculum, the students of HCOP also get access to training by eminent professionals in the industry, scope to pursue certificate courses and skill development program organized by the Government of Andhra Pradesh, gain hands-on practical knowledge via regular industrial visits and so on.

Paving a Productive Path

Aiming to strengthen the linkages with the industry and research organizations, the institute has set up Industry Institute Partnership Cell in the campus, which ardently looks after facilitating industrial training, internship, promoting participation of industry personnel, arranging industry visits, technical consultancy, organizing workshops, conferences, and symposia. Till date, HCOP for staying abreast with the industry requirement has signed 22 MoUs with organizations such as Elaine
Dairy Pvt. Ltd., Guntur, Siddhartha Pharma Innovation and Incubation Centre, KVSR Siddhartha College of Pharmaceutical Sciences, Vijayawada, Manasa Psychiatry Institute, Guntur, M/s. Koch Organics, Undavalli Centre and many more. "Explicitly focusing on better learning outcome, we believe in encouraging both faculty and students to participate in research and development activities," claims Dr. Govindarajan.

Equipped with state-of-the-art laboratories, the institute's three departments namely Pharmaceutics, Pharmaceutical Analysis, and Pharmacology have been recognized as research centers by ANU. Dr. Govindarajan adds, "In an attempt to intensify the research activities, we have also set a Drug Testing Laboratory in the campus. Having 13 doctorates and almost all recognized as research supervisors in their disciplines at various universities, we at HCOP undoubtedly have been successful to develop a research culture within the campus." Guarantying to hand over a robust educational experience to the students by the end of their respective courses, the institute has embraced infrastructural facilities like well-stocked library, hostel, canteen, Yoga and meditation Club, Language and Communication Skills Lab, Innovation and incubation centre, sophisticated CPCSEA Animal House and herbal garden, to name a few.

"Having these kinds of facilities in the campus help the faculty members to deliver the education using advanced methodologies such as Visual techniques, ICT techniques and micro teaching, which include methodology of emphasis," shares Dr. Govindarajan. Utilizing the communication lab, the students from the first year onwards are motivated to develop their language & communication proficiency and undergo online training programmes on IELTS, TOFEL, and GRE. The institute has appointed a faculty, who possesses Doctorate in English to teach basic communication skills, advanced communication skills and soft skills. Further, in the quest for the overall growth of the students, the institute also renders training for developing self-confidence, team building, facing interviews, and group discussions. Considered as one of the most diverse pharmacy institutes of the state today, HCOP endeavors to achieve utmost educational satisfaction by providing quality pharmacy education, training, research, and development.