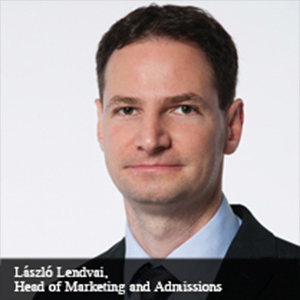 László Lendvai,
Head of Marketing and Admissions
The business arena is becoming highly competitive with each passing day and it is unequivocally making the professionals strive hard to sustain. Here, only the one who has the smart skills instilled in them can climb the success ladder and confidently confront with any given set of challenges. Amit Salve, despite acquiring a Mechanical Engineering degree from the University of Pune, aspired to be in this dynamic industry. He knew that international education, especially from the UK, would be the best choice for him. However, staying and studying in the UK for couple of years was not a cost-effective solution to fulfill his dreams. After a rigorous research, he found International Business School in Hungary, which is one of the favorite intuitions among the international students for obtaining a business education, owing to its partnership with The University of Buckingham that allows the students to earn a British degree without burning a large fortune by staying in the UK.
"Right from the fellow learners to the faculty members and other members of the institute, everyone was so much supportive in every aspect. One can be assured to receive a world-class and comprehensive management education, if he/she chooses to study at IBS," shares Salve. Since 1991, IBS has been dedicatedly providing an explicit practice-oriented education in a high-profile business environment, allowing the students with a business bend of mind to get their foot in the door of a real business world. Imparting quality business education in its campuses in Budapest, Vienna, and London, IBS welcomes students from over 100 countries fostering a unique multicultural and diverse student community within the classrooms.