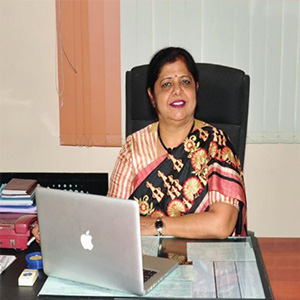 Kanchan Dulani is a passionate individual who believes deeply in the right of every child to receive an effective and strong education along with values. An open-minded student-centric teacher, Kanchan earned her degree in Education 35 years ago. She has done her B.Sc, M.A (Economics) and B.Ed from Bhopal University (M.P). After her education, Kanchan worked as a teacher for 15 years and joined Sadhu Vaswani International School as a Primary Co-coordinator in the year 2011. In the next year, she was promoted to the post of Vice-Principal. On 31 March 2017, Kanchan achieved her dream of becoming the Principal of the Sadhu Vaswani International School. A mother and a wife, Kanchan is a lifelong learner who gives her hundred percent to the responsibilities she takes up. As a visionary leader, she enjoys working with and supporting others for exemplary student learning.
The Pragmatic Facilitator
In 2008, when Sadhu Vaswani International School (SVIS) started its operations in Hyderabad, the strength of students was only 72 with six teachers in the campus. Now a massive institution with 2973 students and over 255 teachers, SVIS has achieved School Excellence Awards for Top 500 Hundred School of India -2017-18 under three categories; Best Community & Collaborative, Happiness Quotient Index and Innovative Practices School -among Best CBSE Schools of Telangana.