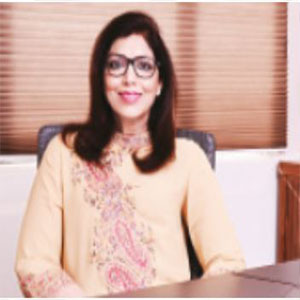 An accomplished academician with a rare conception, the presence of an educator like Jasmine Gandhi, makes the mankind trust in the term 'empathy'. With her vision that every child has the potential to bring something unique to the world and there should be a school for every kind of child, today Gandhi feel blessed for being able to educate children from different walks of life through variety of initiatives. Her dream of serving the society started when she collaborated with Ms. Lina Ashar to establish Kangaroo Kids (Noida Center). In the role of the Director at Billabong High International, Noida (BHIS), Gandhi fantasizes a sphere where people learn to respect, accept, and embrace the differences between each other.
Breaking the Glass Ceiling with Education
Under the direction and successful leadership of Jasmine Gandhi, the Billabong High International School (BHIS) has grown into a first choice for students and parents in the Noida region. A CBSE & Cambridge International Examinations affiliated school, BHIS, Noida is part of the Kangaroo Kids Education Ltd (KKEL), chain of franchise schools which are operational in 40 cities across 5 countries including India. The school focuses on preparing children for the unknown future. The pedagogical practiced in the school helps groom learners with skills of 21st century viz. Communication, Creativity, Collaboration, Critical thinking. The school practices to nurture Lifelong & Mindful learners (Students taking responsibility for their own learning) and motivates to become Engaged learners (Experiential learning make the process of learning enjoyable).