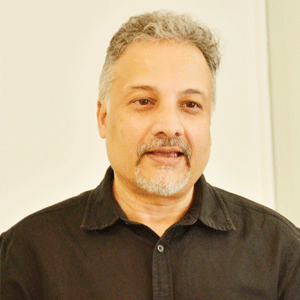 Santanu Chatterjee
Director of Academics
The universe of Indian cinema offers many different challenges and opportunities to aspiring filmmakers. Sri L.V. Prasad (producer, actor, director, cinematographer and recipient of Dadasaheb Phalke Award) dreamed of creating an exemplary film academy, as early as the 1950s, after achieving success in the Indian film industry. His son, Sri Ramesh Prasad, manifested L.V. Prasad's dream by establishing the L. V. Prasad Film and Television Academy (LVPA) in 2005. Since then, the Academy has graduated numerous filmmakers who have found success and fulfilment in the Indian film industry.
A Pioneer in Teaching the Craft of Filmmaking
The faculty at LVPA are aware that they have to build upon the strengths of today's generation of students who are technologically savvy, who have the world's information at their fingertips. LVPA faculty are intentional about engaging students as active participants in the learning process, by helping them integrate, deepen, connect, and expand what they might already know. "By choosing to attend film school our students have decided to follow their passion instead of more conventional academic pursuits.
This choice, alone, ensures we get an extremely motivated cohort of students who are serious about their learning. While our students are talented, creative, and curious, they are also guided and taught by an equally gifted and passionate faculty who are always looking for innovative ways to marry professional experience and pedagogy. We discourage rote learning, mindless memorization, and passive learning at LVPA. Our