evidence-based medicine and problem-based learning in laboratories, are coupled with preparing the third-year students by introducing them to clinical practice by having patients placed in their care under the direct supervision of an attending podiatric doctor. Dr. Bathla shares, "In order to keep ourselves updated with the happening and development of Podiatric medicine in India, we have associated with Amrita Institute of Medical Sciences, Kochi, Kerala. Our students moreover get to participate in month-long international externships at affiliations that we have across the world."
The students of NYCPM over the years have performed social works in areas within north, south and central India and have helped people who live in remote areas and don't have access to regular podiatric care. These kinds of activities enable NYCPM's students to understand medicine on a much more global level. "Students are our priority. We put collective efforts to make their learning experience at NYCPM fruitful. Given this, we offer over $750,000 in annual scholarships for our students," says Dr. Bathla.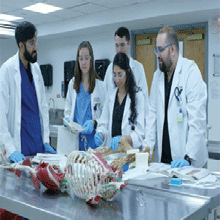 On the other side, in the pursuit of providing a warm and welcoming gesture to the international student, NYCPM assigns mentors to each student through the Big Brother/Big Sister program, where students are rendered continuous assistance. "Hosting students from all over the world, including places like Canada, Africa, and India, we are always ready to welcome overseas students to be part of our NYCPM family," concludes Dr. Bathla.
Dr. Susheel Bathla, Member, Board of Trustees
A Member of the Board of Trustees at NYCPM, Susheel Bathla, DPM, has taught Educati on in Human Values for almost 20 years to pre-teen and teen students. Dr. Bathla also serves as a doctor of podiatric medicine and has two offices, one in Staten Island, NY and in Trenton, NJ. Dr. Bathla received her BS degree in Medical Sciences, with honors, from Government College for Women, Punjab University, India, and her DPM degree from NYCPM in 1994.