Beautiful Business School' on the website 'topmanagementdegrees.com' when it opened in 2013. The 60,000 square-foot building features innovative classroom design with premier quality furniture, a 385-seat Troesh Conference Center, WiFi connectivity throughout the campus, a state-of-the-art finance/computer lab that features software including SPSS, as well as near real-time financial data, and an innovation/maker lab with rapid prototyping on military-grade 3D printers and CAD technology.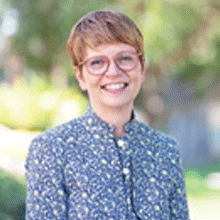 Joy A. Fehr, President
Being among the lowest-priced private schools of comparable type in southern California – especially for international students who often pay much higher rates – La Sierra University is one of the best values for the money, particularly when considering the remarkable twelve months of personalized entrepreneurial mentoring following the completion of classes.
Now, nearly a century after its inception, La Sierra University serves approximately 2400 students annually and promises its students that it will welcome, challenge, and stimulate you, respond rapidly and flexibly to your needs and concerns, expand your intellectual world, sharpen your skills, and steer you towards exciting opportunities to improve the world around you.
John Thomas, Dean
John Thomas is Dean and Bashir Hasso Professor of Entrepreneurship and Political Economy at La Sierra University's Zapara School of Business. He is the author or co-author of over twenty articles and two books. He is a serial entrepreneur who has been actively involved in the development of a range of entrepreneurial start-ups, focusing on the biotech and technology world. He also serves on numerous for-profit and nonprofit boards, and is known for his global network of business relationships.
Joy A. Fehr, President
Joy began serving as La Sierra University's fourth president on July 1, 2019. In her previous role as provost of La Sierra, Dr. Fehr created the Senior Leadership Team of academic leaders and university executives that has created the perfect future road map of the company.