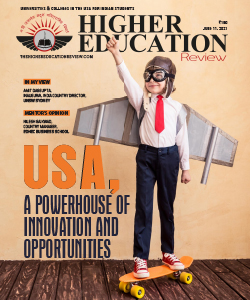 Top 10 Universities & Colleges in the USA for Indian Students - 2021
A majority of the international students study in the United States of America (USA) for the education quality, unique curriculum and multicultural environment. According to QS university's latest report which ranks the USA as the leading country known for its education quality. The USA also has a plethora of opportunities that attract most Indian students. Before stepping into the USA land, the Indian students must stay aware of the education structure and the various options that the colleges and universities in the United States and its cultural and academic set up.

There are a wide array of courses than any countries in the world and students with different ambitions get a perfect fit for their course choice. Many colleges and universities have customized courses for students' benefit. Students can select colleges/universities large or small as per preference for studying. The USA is the go-to place for research-oriented students. Its higher education offers a huge quotient of research and training where there is no shortage of resources, and students get advanced technology, latest equipment and astonishing infrastructure for conducting research.

Students that are opting to study at the undergraduate level can select different courses before declaring the subjects for major at the end of course year. This approach gives students to take sound decisions while exploring their interests.

Known as the land of opportunities, the USA is one of the safest places for students from everywhere and from India, and students need not fear any race attacks. The USA has a strong Indian community presence in a multiracial societal structure which allows new immigrants to enter the country.

For helping the Indian students that are looking for the most suitable universities and colleges in the USA, we at Higher Education Review magazine are trying to simplify the dilemmas of selecting the best educational institutes in the USA for students from India. Our expert panel of researchers has looked into the situation and articulated a list under the name 'Top 10 Universities & Colleges in the USA for Indian Students – 2021', which is based on the institutes' qualities, expertise, ranks, facilities and much more. Reviewed and scrutinized by the intellectual individuals of this specific field, the educational institutes mentioned in this list deliver exceptional education along with outstanding infrastructure, top-notch mentoring facilities, and placement opportunities. We hope that this above-mentioned list will help interested Indian students to choose the best higher education institutes in the USA.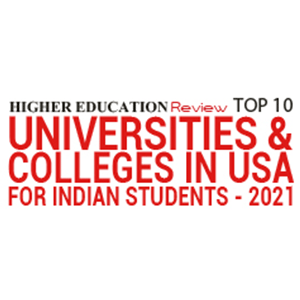 Nominate College/Institute
×
Nominate College/Institute
Our subscribers play a decisive role in finalization of our annual list of "Top 10 Universities & Colleges in the USA for Indian Students - 2021" by nominating those which have served them with excellence and are praiseworthy. If you feel there is a College/Institute that deserves to be on our annual list, do write to us about them mentioning their value proposition.
Data not inserted