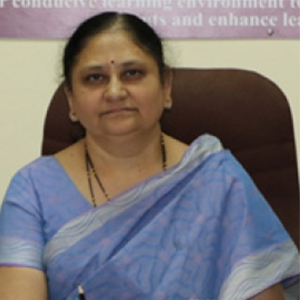 During the late 1970s, there were very few educational institutions in Bangalore which provided education to Women knowing the fact that educating Women is educating the whole family. Started with a clear vision of providing value education to a girl child, NMKRV College for Women was set up by Late Kasturiranga Ranga Setty who started Pre-university College in Jayanagar in 1971 along with the Late Shivananda Sharma under the umbrella of Rashtreeya Sikshna Samiti Trust. The name NMKRV comes from Nagarathnamma Meda Kasturiranga Setty Rashtreeya Vidyalaya, the consort of Late Kasturiranga Setty. The Pre-university College started with 150 students in the campus and was later upgraded into a degree college in 1973 and was named as NMKRV College for Women.
"In the noble quest for knowledge and self-actualization, our aim is to educate, enrich and empower women. We Educate by providing equal opportunities to low achievers, high achievers, and first-generation learners. We Enrich by sensitizing students to their changing roles in society. NMKRV inculcates secular values and nurtures the spirit of collaboration. We Empower by offering a conducive environment of growth enabling them to tap their innate potentialities, talents, leadership qualities and work towards enhancement of their competencies. Our goals and objectives are educating, enriching and empowering women by imparting quality education in this fast-changing technological world," says Dr. Snehalata G Nadiger, Principal, NMKRV College for Women.
Focusing on First Generation Learners
At present, the College offers Seventeen Undergraduate and Four Postgraduate programs in different streams. "Education in our campus is a harmonious blend of the demands of society, the specific educational reach and the ideological stand of our college. All learning situations are designed keeping in mind the social roles that our students ought to play in the overall development of our country. Thus, we have a harmonious blend of theorizing and its practicality. This has ensured the multi-skill development of students which is seen in their ability to express ideas succinctly, accommodate opinions, and critical thinking of others," added Dr. Snehalata.
As an Autonomous College, NMKRV has achieved many feats and have climbed new heights. It is awarded as a 'College with potential for Excellence' by UGC in 2010 and is accredited by NAAC with 'A' grade with 3.22 CGPA in 2015. The College has been identified for support in level 'O' category by DST