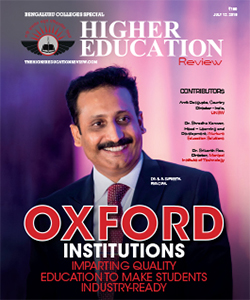 Top 20 Promising Education Institutes in Bengaluru - 2019
One might call Bangalore as 'Silicon Valley' or 'Garden City' of India, but surely the electrifying and stimulating working ambiance has made this city the land of the enthusiastic and enduring learners and innovators. Bangalore, the capital of Karnataka, over the years has grown to become the land for some of the reputed colleges and universities like Indian Institute of Management (IIM), Indian Institute of Science (IISc), International Institute of Information Technology (IIIT), National Law School, and many more. Moreover, the presence of Indian Space Research Organization (ISRO) depicts the importance and contribution of Bangalore in the development of Indian education and research culture. It is one of the prime education destinations for many students around the country.

Known as 'tech hub' to a major section of the Indian population, many individuals from all over the country, after completing their education hopes highly to visit the city and begin their professional career. The city illustrates itself holds a literacy rate of 87.67 percent and is one of the frontrunners in imparting scrupulous higher education. Being the tech hub of the country, Bangalore provides ample of opportunities to the students in the information technology sector. This is why, every year bustling students look forward to study in this city and have an impactful career. 

In recent times, when technologies like Internet of Things (IoT), Blockchain, Android, Data Science, Automation, and Artificial Intelligence (AI) are flourishing; Bangalore may perhaps top the list of the cities of probable higher education for many students. Not only technology enthusiasts, but the city also attracts students who desires to study law, management, animation and design, and medical courses. Considering these factors, and to make a student's exploration for factual and tangible information about different colleges and its uniqueness uncomplicated, this issue of the Higher Education Review presents a list of "Top 20 Promising Education Institutes in Bengaluru - 2019".  The institutes featuring in this issue are selected by a panel of immensely qualified experts, researchers, and academicians after critical research.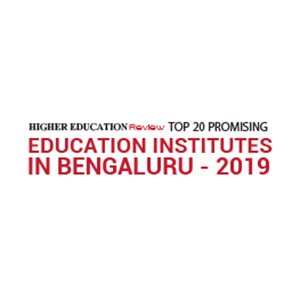 Nominate College/Institute
×
Nominate College/Institute
Our subscribers play a decisive role in finalization of our annual list of "Top 20 Promising Education Institutes in Bengaluru - 2019" by nominating those which have served them with excellence and are praiseworthy. If you feel there is a College/Institute that deserves to be on our annual list, do write to us about them mentioning their value proposition.
Data not inserted