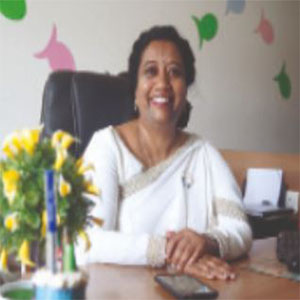 "Look, your cousin got 90 percent in the Maths. See, our neighbor's daughter stood first in the singing competition. Oh dear, you must learn something from them." These are the favorite 'motivation lines' for many parents and teachers. However, unknowingly these verbal statements do more harm than good. Dr. Stella Pandhare, Principal of Nurture International School (NIS), opines, "Young children, and in fact, no child or even adult, must ever be compared. Comparison with others lowers a child's self-esteem or feeds her ego. Both are undesirable."
"While large classes lack the intimacy and amount of interaction with teachers, NIS has adopted the small class size policy by maintaining a student-teacher ratio of 8:1"
At NIS, which is located in North Bangalore, kids are never compared with each other. Dr. Pandhare adds,"All children are capable of mastery, but children at a young age grow at different pace and should never be compared. Nurture schools are extremely clear on this objective. We urge our parents also to understand this important principle, as this will help their children grow up to be stronger, more confident individuals." NIS promises to render a self-learning environment to its students. The school is successfully run under the banner of Sunrise Educational trust with Mr. Narasimhan as Chairman, Mrs. Veena Shiva kumar as Secretary and Mr. Vivek as the Trustee.
"We comprehend that education's role is to help each child maximize its potential in a balanced setting that addresses the development of a child's inner and outer powers of body, mind, heart, and spirit. NIS was initiated with a clear vision of enabling each child to identify its own strength and blossom out with individualistic qualities," pinpoints